New trove of classified US documents leaked – NYT
The Pentagon and Justice Department say they are investigating the alleged unauthorized disclosures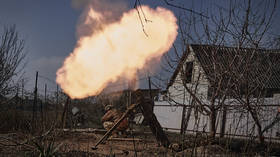 Scores of secret US national security files have appeared online after another major leak, the New York Times has reported, noting that the new documents include "sensitive" material related to Ukraine, China, the Middle East and terrorism.
The breach comes just one day after other "top secret" papers showing US and NATO war plans in Ukraine made the rounds on social media.
The new trove of documents was spotted on Twitter and other platforms on Friday afternoon, in what one senior US intelligence official described as a "nightmare" for Western security services, according to the NYT. While the full scope of the leak has yet to be determined and the authenticity of the files remains unverified, the outlet suggested the latest breach could include "more than 100 documents" in total.
Similar to another classified disclosure first reported on Thursday, some of the files detail intelligence related to the conflict in Ukraine. One "top secret" document shows a US assessment of the situation in the city of Artyomovsk (known as Bakhmut in Ukraine), which has largely come under Moscow's control after months of bitter fighting.
However, the new leak does not stop with Ukraine and covers a variety of other subjects, including "sensitive briefing slides on China, the Indo-Pacific military theater, the Middle East and terrorism," the NYT added, stating that the scale of the breach appears to have caught the White House "off guard."
The Pentagon said on Thursday that it would investigate the matter, while the Justice Department later announced its own separate probe. It said it was in communication with military officials, but neither have shared any additional details.
Following the prior leak earlier this week, officials said they were working to remove the material from the internet, though those efforts appear to have been unsuccessful so far, as many of the documents remain accessible on social media.
According to one unnamed official cited by the NYT, determining the source of the breach would begin with "identifying which officials had access to them." Staffers at several national security agencies described a "rush" to find the leaker, voicing concerns that this week's disclosures would turn into a "steady drip of classified information" published online.
You can share this story on social media: