German religious leader calls out Ukrainian diplomats
The council president of the country's Evangelical Church Annette Kurschus emphasized a need for peace proposals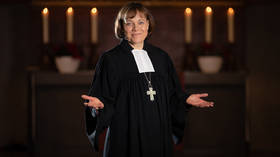 The head of the Evangelical Church in Germany has rebuked high-profile Ukrainian officials for attacking a recent public appeal by renowned politicians for work on ending the conflict between Moscow and Kiev.
In an interview with newspaper Koelner Stadt-Anzeiger published on Thursday, Annette Kurschus said that she is angered by "this artificial alternative between weapons deliveries and talks."
While arms deliveries to Kiev are still necessary, in the clergywoman's eyes, equally important are "efforts [to bring about] talks" between Ukraine and Russia, she pointed out.
According to Kurschus, "negotiations on an equal footing don't come about on their own, they must be brought about." She went on to state that she disagrees with Ukrainian Ambassador to Germany Alexey Makeev, who characterized calls for a truce as cynical. "I refuse to dismiss the call for negotiations as cynical and naive," she said.
Her comments came in response to the harsh remarks made last week by Ukraine's former envoy Andrey Melnyk and by his successor in office.
Taking to Twitter last Saturday, Melnyk, who currently serves as Ukraine's Deputy Foreign Minister, told former historian Peter Brandt and several prominent German social democrats who'd initiated the call for peace negotiations, to "go to hell with your senile idea to reach a quick ceasefire." The outspoken diplomat added that the "Ukrainians reject this frippery."
Echoing his sentiment, Kiev's current ambassador Makeev told German news agency DPA on Sunday that the appeal for peace in question is "pure cynicism in the face of the numerous victims of the Russian aggression." The official went on to claim that the authors were merely trying to obfuscate "Russia's crimes."
Titled "Make peace!," the article was authored by Brandt and signed by a number of heavyweights of German and European politics, including ex-EU Commissioner Günter Verheugen, former Bundestag President Wolfgang Thierse and former SPD leader Andrea Ypsilanti.
The piece warns the German leadership that the continuation of fighting in Ukraine risks spreading the conflict further afield, with the "shadow of a nuclear war" hanging over Europe. The appeal evokes the policy of détente of the Cold War, arguing that it is as relevant as ever.
The author and signatories conclude by calling on German Chancellor Olaf Scholz, with whom many of them share a party allegiance, to join forces with the likes of France, Brazil, China, India and Indonesia in a bid to bring about a swift cessation of hostilities in Ukraine.
You can share this story on social media: