Police warn of terror attacks ahead of Biden visit – media
Northern Irish authorities have reportedly cautioned that "dissident groups" could spark disorder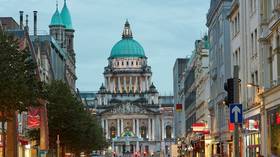 The Police Service of Northern Ireland (PSNI) has warned of potential terror attacks and public disorder over the Easter weekend, according to reports on Friday. The news comes just days before US President Joe Biden is due to visit the region with UK Prime Minister Rishi Sunak.
PSNI Chief Constable Simon Byrne was cited as saying at a meeting on Thursday that officers would be moved to frontline duties for extended shifts to counter any potential threats. He noted that he was being forced to employ policing strategies that hadn't been used for years, which reflected the "exceptional circumstances" ahead of this weekend.
According to The Telegraph, Byrne stated that attacks are "highly likely right across Northern Ireland" and could target police officers and their families, as well as prison officers and military personnel. The authorities believe that "dissident terrorists" could resort to gun and bomb attacks, he is said to have warned.
Assistant Chief Constable Bobby Singleton stated that the PSNI has "very strong community intelligence" that attacks are being planned in Derry/Londonderry near the UK-Irish border on Easter Monday. That date will mark the 25th anniversary of the Good Friday Agreement.
The treaty, signed on April 10, 1998, ended a nearly 30-year conflict between nationalists who want Northern Ireland to join the Republic of Ireland and unionists who wish to remain in the UK. The country has since witnessed only sporadic attacks on security forces, carried out by splinter groups of the Irish Republican Army (IRA) that opposed the accord.
Last month, UK intelligence agency MI5 raised the terror threat level in Northern Ireland from 'substantial' to 'severe', suggesting an attack is highly likely. The move followed an attack in February on Detective Chief Inspector John Caldwell, who was shot multiple times by two gunmen suspected of being part of the New Irish Republican Army (New IRA) – a dissident republican splinter group.
The unionist DUP and nationalist Sinn Fein parties both condemned the shooting.
You can share this story on social media: