West in no position to lecture China on Ukraine – ambassador
Beijing will continue to call for peace and dialogue, Zhang Hanhui says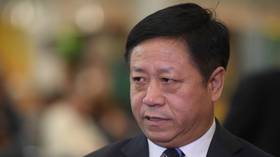 Western countries have no right to give instructions to China regarding its relations with Russia and its stance on the Ukraine conflict, Chinese Ambassador to Moscow Zhang Hanhui has said.
Zhang was asked about the US and its allies pressuring Beijing amid the fighting in Ukraine and claims that China is supporting Moscow during an interview with Russian newspaper Izvestia on Friday.
"It wasn't the Chinese side that created the Ukrainian crisis. China isn't a party to it and hasn't provided arms to any of the sides of the conflict. The West isn't in a position to give instructions to China, and even more so it doesn't have the authority to relay the responsibility on it," he replied.
According to the ambassador, Beijing "doesn't have its own interests in the Ukrainian issue... it doesn't add fuel to the fire, doesn't seize the moment in order to benefit from the crisis."
On the contrary, the Chinese authorities have been consistently calling for a political settlement since the fighting began in Ukraine more than a year ago, he pointed out. "We will continue to stand on the side of peace, dialogue and historical justice," Zhang stated.
On the issue of China-Russia relations, the ambassador noted that President Xi Jinping had described strengthening ties with Moscow "a strategic choice" for Beijing during a visit to Russia last month. Xi said this was "based on fundamental interests and the general trend of world development," adding that it could not be "changed or shaken by momentary events."
"History shows that the Chinese-Russian relations can cope with the challenges of a changing international environment" as the neighbors have found "the path of proper coexistence," said the president.
Zhang also spoke about attempts by "some countries" to use the Taiwan issue to "gain dividends" in its relations with China against the backdrop of the Ukrainian crisis.
"The essence of the Taiwanese and Ukrainian problems are quite different. Taiwan is an inalienable part of China, and this issue is purely an internal affairs [matter] of the Chinese state... which doesn't accept any external interference," the diplomat explained.
Taiwan has been self-governed since 1949, but never officially declared independence from China. Beijing considers the island to be a part of its territory and strongly opposes contacts between Taipei and Washington, which supports the Taiwanese push for sovereignty and promises to protect the island militarily.
You can share this story on social media: