Met Police nearly three times more likely to strip-search black girls – study
Report follows another which condemned UK capital's police force as being "institutionally racist"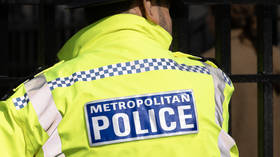 Black girls and teenagers are close to three-times more likely to be strip-searched by London's Met Police if suspected of a crime compared to their white counterparts, data analyzed by Liberty Investigates suggests.
The findings of the study, which was published by UK daily The Guardian, showed that between 2017 and 2022, 110 female children and teenagers were strip-searched by London's police police force, according to information obtained through freedom of information requests – with 47% of the strip-searches being performed on black girls.
The data separates instances which are less invasive and those during which a subject's private body parts are revealed. In both, black girls were far more likely to be searched.
"Although the government remains in denial on this issue, it is also compelling evidence of blatant racist discrimination," said Labour MP Diane Abbott of the study. "Especially as we know that in most cases there is no evidence of any criminal activity at all." Abbott also called for the Met Police to be "disbanded and re-established on a much better basis."
A spokesperson for the London police force said last month that, "We fully acknowledge that we have overused this type of search."
"We have been making significant efforts to ensure that the use of this tactic is absolutely appropriate in all circumstances and that our approach puts the child at the heart of decision making."
The study follows another official report released in March which showed that black children as a whole were up to 11 times more likely to be subjected to a strip-search in England and Wales, per data collected by the Children's Commissioner for England, Rachel de Souza.
That report found that there were at least 2,847 instances of children being strip-searched pre-arrest under police 'stop and search' powers. 38% of these children were black, despite making up just 5.9% of the total population. White children, by comparison, made up 42% of the searches and 74% of the population.
This, in turn, followed another report from March which criticized the Met Police for being "institutionally racist, sexist and homophobic."
You can share this story on social media: