Israel 'alarmed' by Iran comments from top US general – Axios
Senior Israeli officials have questioned whether Washington would tolerate Iranian nuclear weapons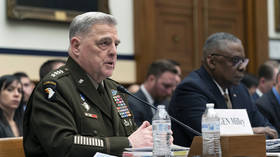 Israel has reportedly lodged protests and sought "clarifications" from the White House, after Chairman of the Joint Chiefs of Staff Mark Milley told lawmakers that the United States would never allow Iran to have a "fielded" nuclear weapon, fearing his language indicated a shift in US policy.
Israeli officials sounded the alarm after General Milley gave a congressional testimony last week and stated that Washington "remains committed as a matter of policy that Iran will not have a fielded nuclear weapon," according to Axios. The outlet said the officials believed his comments could mean the US "would tolerate Tehran having a nuclear weapons program" so long as no bombs were "fielded" on a missile or other delivery system.
Several unnamed sources told Axios that the concerns came from the Israeli Prime Minister's Office, the Ministry of Defense, the Foreign Ministry and the Mossad intelligence service, noting that Milley's testimony "alarmed Israeli defense and intelligence officials to the point they protested."
Tehran has repeatedly stated that it has no intention of developing nuclear weapons, with Iranian supreme leader Ayatollah Ali Khamenei even issuing religious edicts against the atom bomb and other weapons of mass destruction. Nonetheless, US officials and their Israeli counterparts have continued to accuse the Islamic Republic of pursuing a nuclear arsenal.
Israeli officials pushed the top general to "clarify his remarks or retract them," and at another House hearing just days later, Milley offered a similar statement about Iran, but without the word "fielded."
"We asked the Biden administration to fix it and they did," a senior Israeli official told Axios.
However, a spokesman for the Joint Chiefs, Joseph Holstead, later said US policy toward Iran "remains the same," adding that Milley's prior language did not indicate any change and was simply "military vernacular."
You can share this story on social media: