Japan needs new bomb shelters – ruling party MP
The nation can no longer take peace for granted, Keiji Furuya has said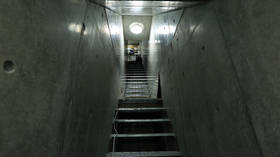 Japan could pass a bill facilitating the rollout of bomb shelters as early as next fiscal year, Keiji Furuya, a member of the ruling Liberal Democratic Party, has said.
"Japan hasn't been involved in a war for 77 years, but what we've taken for granted since then no longer holds true," Furuya, a former head of the National Public Safety Commission and co-leader of a group of MPs lobbying for the measure, said in an interview with Bloomberg News published on Tuesday. "The world has changed a lot," Furuya explained.
Just 4% of the sites designated as bomb shelters in Japan are located underground, according to Kyodo News.
According to Furuya, a bill outlining a schedule for shelter provision could be passed as soon as next fiscal year. The initiative comes amid increasing tension between Tokyo and Beijing, as well as between Beijing and the US, Japan's ally.
Last year, Japan delivered a diplomatic protest to China after claiming that several ballistic missiles fired by the Chinese military during an exercise around Taiwan fell in the waters within Japan's exclusive economic zone. The Chinese Foreign Ministry said at the time that the drill was conducted in accordance with international law.
North Korea drastically ramped up missile tests in 2022, with some projectiles landing close to Japanese territory. Pyongyang has maintained that the tests were a response to joint US-South Korean drills.
In February, Japanese legislators approved a record $50 billion defense budget, citing new security challenges. The government has also revised the country's national security strategy to include the acquisition of "counterstrike capability" with the aim of pre-empting enemy attacks.
Following a meeting in January, US and Japanese officials pledged to increase military exercises and boost defense cooperation. Tokyo and Washington regularly conduct naval and ground-based drills, including maneuvers focused on amphibious assault and anti-submarine warfare.
You can share this story on social media: