US planning North Korea 'countermeasures' with Asian allies
Washington, Seoul, and Tokyo will meet to consider ways to respond to alleged "provocations" by the DPRK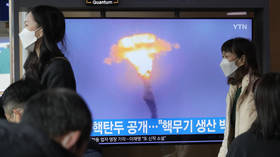 Top nuclear envoys from the US, South Korea, and Japan will hold a round of talks later this week on North Korea's nuclear arsenal and rising tensions on the Korean Peninsula, including potential "countermeasures" against Pyongyang.
The South Korean Foreign Ministry announced the upcoming talks during a Tuesday press briefing, noting that its chief nuclear negotiator, Kim Gunn, would join his US and Japanese counterparts for discussions in Seoul on April 7.
"At this meeting, the chief representatives of the three countries will share their assessment of the grave situation on the Korean Peninsula following North Korea's recent series of provocations and discuss countermeasures," ministry spokesperson Lim Soo-suk told reporters.
While it's unclear what kind of response the officials will consider, the planned meeting comes amid soaring tensions with the DPRK, which has conducted a large number of weapons tests in retaliation for continued US-led military drills with South Korea in recent months. Pyongyang has repeatedly denounced the exercises as rehearsal for an invasion, and insists on its right to develop its nuclear arsenal to defend against potential attack.
Under President Joe Biden, Washington has pursued a more bellicose approach to North Korea than his predecessor, Donald Trump, who arranged several rare diplomatic meetings with leader Kim Jong-un. Biden has instead demanded that Pyongyang abandon its nuclear weapons, which the North has rejected as a non-starter.
The US State Department said Biden's special representative for North Korea, Sung Kim, would attend Friday's nuclear talks, arguing that ties with Japan and South Korea are "critical to strengthening regional security."
Despite a steady stream of warnings about the DPRK's weapons from American officials, National Security Council spokesman John Kirby told reporters last month that the government has seen "no indications" that North Korea is planning an "imminent" attack on the US or its allies.
You can share this story on social media: