Finnish PM loses re-election to right-wing forces
Sanna Marin's party ended in third place despite gaining seats in parliament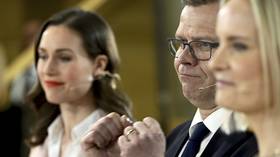 Finnish Prime Minister Sanna Marin, who gained international media prominence for taking office at a record-young age and spending some of her leisure time partying, has conceded defeat in Sunday's general election.
Marin's Social Democratic Party (SDP) is projected to secure 43 of the 200 parliamentary seats – three more than in the previous election, but only enough for third place. Its partners in a five-way center-left coalition all performed worse than in 2019.
The center-right National Coalition Party (NCP), led by 53-year-old Petteri Orpo, topped the vote with a projected 48 seats. The NCP finished third in 2019, but will now be granted the first attempt at forming a new government. The nationalist anti-immigration Finns Party retained its position as the second-largest group in the parliament, after winning an estimated 46 seats, up from 37.
Analysts believe the Marin government lost support despite her personal popularity by running the national debt too high. It has surpassed 70% of GDP since she took office, with increased funding for pensions and education programs. The debt issue was named as paramount by roughly one fifth of voters in opinion polls, according to Yle.
The national broadcaster also noted that the Finns Party, a force that Marin branded "openly racist" on the campaign trail, had scored more than 20% of the national vote for the first time. The party, which denied allegations of xenophobia, advocates curbing immigration from non-European nations. It has also called for cuts to "unnecessary" budget spending.
Marin, 37, became the youngest-ever Finnish PM five years ago. She was criticized by some conservative politicians for allegedly undermining her office by visiting nightclubs, although many younger voters believed Marin's lifestyle added to her appeal.
The two parties that defeated the SDP at the ballot box did so by "offering something completely different from Marin's government," analysis by Yle stated.
You can share this story on social media: