Details of possible charges against Trump revealed – AP
The former US President is reportedly being accused of at least one felony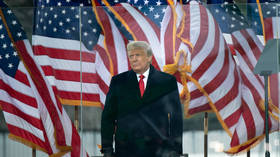 The indictment against former US President Donald Trump over his alleged role in paying hush money to a porn actress includes at least one criminal charge, Associated Press reported on Friday, citing two "people familiar with the matter."
According to the agency's sources, Trump – the first current or former US president to be indicted – is facing several charges of falsifying business records, including a felony offense. However, they declined to reveal the exact contents of the indictment, which so far remain sealed.
Earlier, CNN reported that Trump was facing more than 30 charges in the indictment, which will be formally unsealed once he is arraigned. The procedure is expected to take place in the Manhattan criminal court on Tuesday.
According to AP sources, the former president is expected to travel to New York on Monday and stay at Trump Tower overnight before he appears in court. After the planned arraignment, he will be fingerprinted and photographed. It is unclear whether Trump, who as a former president is protected by the US Secret Service, will be handcuffed.
Trump was indicted by a grand jury on Thursday over an alleged scheme to pay $130,000 to Stormy Daniels, an adult film actress who claimed she had an affair with the ex-president, via his then-lawyer Michael Cohen in 2016. The scheme was meant to stop Daniels from going public about the sexual encounter, which Trump denies ever took place.
The alleged hush money payment, which is not illegal in itself, was later reimbursed by Trump to Cohen and recorded as legal expenses, according to the prosecution. This potentially opens the ex-president to further allegations of falsifying business records, which could amount to a crime in New York.
Trump has denied any wrongdoing, dismissing the indictment as "political persecution and election interference at the highest level in history," while claiming he "cannot get a fair trial in New York." The ex-president also warned that "this witch-hunt will backfire massively on [US President] Joe Biden."
You can share this story on social media: