US grand jury indicts Donald Trump
The former president is "expected to surrender to authorities" next week, according to media reports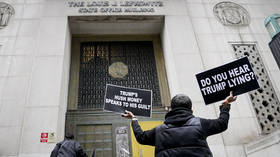 Former President Donald Trump was indicted by a Manhattan grand jury on Thursday for his alleged role in paying hush money to adult film actress Stormy Daniels, according to his lawyer and court sources cited by US media.
While specific charges were not immediately made public, Trump's lawyer, Joe Tacopina, confirmed to AP that the grand jury voted to indict Trump on Thursday. CNN and other US outlets also confirmed the indictment, citing multiple "sources familiar with the matter."
"We will vigorously fight this political prosecution in court," Tacopina said, insisting that his client "did not commit any crime."
A spokesman for the Manhattan district attorney's office confirmed the indictment, which is expected to be officially announced in the coming days. Trump will be requested to surrender and appear in court to face arraignment on the still-sealed charges, multiple news agencies reported, citing unnamed sources.
The case centers on an alleged payment of $130,000 made by Trump to Stormy Daniels via his then-lawyer Michael Cohen during the final stages of his campaign for the US presidency in 2016. It was previously alleged in a legal case against Cohen that Trump later reimbursed him with several payments of $35,000 which were recorded as legal expenses, opening up further allegations of possibly falsifying business records, the non-payment of taxes and potential violations of campaign finance law. Cohen pleaded guilty in 2018 to federal charges related to the alleged hush-money payment.
Trump had consistently denied the affair and any knowledge of the hush payment, and warned last week of potentially disastrous consequences if he is arrested and charged. The former president has since called on his supporters to "protest" and "take our nation back" in the event that he is officially charged and arrested by the "corrupt and highly political Manhattan district attorney's office."
You can share this story on social media: