Von der Leyen in line for NATO's top job – The Sun
Several members of the military bloc are backing the European Commission president's candidacy, a diplomatic source told the outlet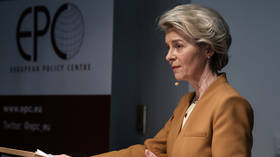 European Commission President Ursula von der Leyen is "in the running" to replace Jens Stoltenberg, whose term as NATO secretary general expires in October, British newspaper The Sun reported on Friday, citing a diplomatic source.
According to the tabloid, "a number of NATO members" proposed von der Leyen's candidacy for the bloc's top job. However, the newspaper also cited UK sources as saying that London "would likely veto" the move because of "her poor track record in charge of Germany's Armed Forces" during her tenure as defense minister.
The newspaper reported British Prime Minister Rishi Sunak is backing Ben Wallace, the country's defense secretary, for NATO's top post. Wallace said in a radio interview in February that he was happy with his current position, adding that leading NATO would be "a great job as well."
The report named Estonian Prime Minister Kaja Kallas and Canadian Finance Minister Chrystia Freeland as other possible candidates. The Sun added that Kallas has reportedly declined to be nominated and that Freeland, whose mother is Ukrainian, was "unlikely" to succeed because Ottawa has so far failed to meet the NATO target of spending 2% of GDP on defense.
Von der Leyen was appointed as the EU's top executive in 2019. Her six years as Germany's defense minister was plagued by shortages and delays in the delivery of Bundeswehr equipment. "The army's readiness to deploy has not improved in recent years, but instead has got even worse," parliamentary armed forces commissioner Hans-Peter Bartels said in 2018.
Von der Leyen spearheaded the European bloc's anti-Russia sanctions and joint efforts to train and equip the Ukrainian military. She has also called on EU members to take a tougher stance when dealing with China.
The NATO secretary general is appointed for an initial term of four years, after consultations among member states.
Stoltenberg's tenure was extended for an extra year shortly after an armed conflict broke out between Russia and Ukraine in February 2022. The spokeswoman for the US-led military bloc confirmed earlier this year that the outgoing secretary general, who is Norwegian, was not planning further extensions of his mandate.
You can share this story on social media: