Google co-founder among Billionaires subpoenaed in Epstein-linked case – WSJ
Hyatt Hotel's Thomas Pritzker and mogul Mortimer Zuckerman are also reportedly being asked for evidence in a lawsuit against JPMorgan Chase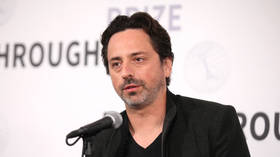 Google co-founder Sergey Brin and several other billionaires have been issued with subpoenas by the US Virgin Islands as part of a civil lawsuit against JPMorgan Chase over the bank's ties with convicted sex offender Jeffrey Epstein, informed sources have told the Wall Street Journal.
Other tycoons to have been approached include the executive chairman of Hyatt Hotels Thomas Pritzker, real-estate mogul Mortimer Zuckerman, and investor Michael Ovitz, the outlet reported on Friday.
The subpoenas from the attorney general of the US Virgin Islands seek any communications and documents related to JPMorgan Chase and Epstein from some of the wealthiest men in America, the sources said.
The exact reasons why Brin, Pritzker, Zuckerman and Ovitz are being asked for data as part of the case "couldn't be determined," the WSJ noted.
Under US law, lawyers working on civil cases can issue subpoenas to individuals who aren't party to a lawsuit, but are believed to be capable of providing important evidence.
Earlier this week, the media reported that the longtime CEO and chairman of JPMorgan Chase Jamie Dimon had agreed to be interviewed under oath in May as part of the case.
The lawsuit against one of most prominent Wall Street banks was brought by an alleged Epstein victim.
The US Virgin Islands, where Epstein owned a home, sued JPMorgan late last year in a Manhattan federal court, alleging that the bank had received referrals of high-value business opportunities from the convicted sex offender and knowingly allowed continued cooperation with him, while ignoring internal warnings about his illegal behavior.
JPMorgan insists it had been unaware of Epstein's criminal activities and therefore couldn't be held liable.
Epstein, who died in a prison cell in 2021 while awaiting trial on sex-trafficking charges, had been a client of JPMorgan for 15 years, between 1998 and 2013. The last five of those years were after he already pleaded guilty to procuring a child for sex work and soliciting a prostitute.
You can share this story on social media: