Tornadoes devastate multiple US states (VIDEOS)
Extreme weather wreaked havoc on several towns, leaving some neighborhoods in ruins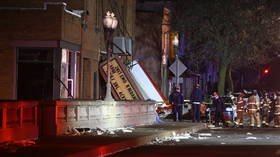 Devastating storms inflicted major damage across several US states on Friday night, with reports of multiple deaths in the south and midwest. A "mass casualty" incident was declared after powerful gusts caused a roof collapse at a music venue in Belvidere, Illinois, according to local officials.
The collapse occurred during a concert at the Apollo Theatre in Belvidere, located some 70 miles northwest of Chicago, amid high winds from a severe thunderstorm. One person died at the scene, while 28 others were injured, city officials said.
A photo of the building published by another news outlet showed debris scattered in front of the venue and a fallen marquee, while footage shared online depicted the scene inside the theater, where a large pile of rubble could be seen. Panicked attendees were also shown in the video, with some helping to dig through the wreckage to search for survivors.
Officials confirmed that "multiple" people were trapped under the debris amid the rescue efforts, according to the Country Herald, a news agency based in central Illinois. The outlet added that 20 ambulances were deployed to the Apollo to treat the wounded, while the Belvidere Fire Department called on neighboring districts to send assistance.
The roof collapse came as a cluster of severe storms pummeled the US midwest and south on Friday evening, with Arkansas Governor Sarah Huckabee Sanders declaring a state of emergency after tornadoes tore through multiple towns in the region. At least three people were reported dead in Arkansas, in addition to more than 40 injured.
Footage captured in Little Rock showed a massive twister as it moved through the city, reportedly overturning vehicles and destroying buildings in its path. A local medical center said it was operating at a "mass casualty level," according to CBS.
Extreme weather also caused damage in other states. Hundreds of residents in the small town of Charlotte, Iowa were evacuated following a gas leak caused by the storms, while the city of Covington, Tennessee was deemed "impassable" by local police, who shared photos of roadways obstructed with debris.
More than 250 severe thunderstorms were reported across the United States by the National Weather Service on Friday alone, as well as 120 tornado warnings, dozens of them issued within moments of one another. A tornado watch was also posted for Rolling Fork, Mississippi, which was ravaged by a deadly twister last weekend, leaving 13 people dead and much of the town "gone," in the words of its mayor.
You can share this story on social media: