US troops suffered 'brain injuries' in Syria
The Pentagon has revealed additional injuries in recent attacks on US outposts in northern Syria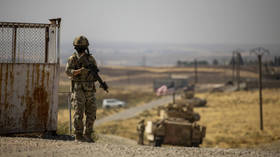 Six American soldiers suffered "traumatic brain injury" following two attacks on US bases in Syria, the Pentagon has said, blaming the strikes on "Iranian-backed groups." Washington has warned Tehran that it would respond "forcefully" to any similar incidents in the future.
Pentagon spokesman Brig. General Patrick Ryder detailed the previously unreported injuries during a Thursday press briefing, saying they were the result of two separate attacks on March 23 and 24.
"In addition to the seven injured service members that I highlighted [previously], there were an additional six US service members that have subsequently been diagnosed with traumatic brain injury as a result of the-Iranian backed attacks," he told reporters, noting that all were in stable condition after post-attack medical screenings.
Asked whether the troops diagnosed with brain injuries had been evacuated for treatment, Ryder said they had not and remained on their bases in Syria, but added "there is the potential, obviously, for additional medical care."
Four of the service members sustained the injuries during a March 23 drone attack on a US base in Hasaka, in Syria's northeast, while the other two were wounded in a separate strike one day later on a mission support facility dubbed 'Green Village.' One US contractor was also killed in the attacks, while five additional soldiers and another contractor were injured.
US forces carried out multiple air strikes in retaliation, killing at least eight "militants," according to the Central Command. Ryder said he could not name the groups targeted, but claimed the fighters were "not Iranians." Instead, he described them as individuals "associated with" the country's elite Islamic Revolutionary Guard Corps (IRGC), though officials so far have provided little evidence to support the claim. Nonetheless, Ryder alleged a "pattern of Iranian and Iran-backed attacks" in both Iraq and Syria.
In the wake of the two attacks and Washington's response, President Joe Biden warned that the US would "act forcefully" to protect its personnel in the future, though insisted the United States does not "seek conflict" with the Islamic Republic.
American soldiers have occupied parts of Syria intermittently for nearly a decade, many embedded with Kurdish militias in Syria's oil-rich northeast. The government in Damascus has repeatedly urged the US to end its military presence, insisting the deployments are illegal under international law, and has accused US forces of stealing vast quantities of oil, wheat and other resources and smuggling them out of the country.
You can share this story on social media: