US launches airstrikes in Syria
The Pentagon has said Iran-affiliated groups were targeted, while local sources claim civilian infrastructure was hit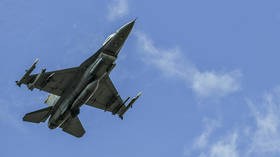 American forces have carried out retaliatory strikes in Syria in response to a deadly drone attack on a US-led coalition base in the northeastern part of the country, the Pentagon has said.
One US contractor was killed while five American troops and a contractor were wounded after "a one-way unmanned aerial vehicle" struck a maintenance facility near town of Hasakah around midday on Thursday, the Department of Defense reported. "The intelligence community assesses the UAV to be of Iranian origin," it added.
In the same statement, Pentagon chief Lloyd Austin said he had been directed by President Joe Biden to authorize "precision airstrikes tonight in eastern Syria against facilities used by groups affiliated with Iran's Islamic Revolutionary Guards Corps (IRGC)."
The bombings were carried out "in response to today's attack as well as a series of recent attacks against Coalition forces in Syria by groups affiliated with the IRGC," Austin stated.
"No group will strike our troops with impunity," Austin insisted, adding that the US will "always respond at a time and place of our choosing."
The US secretary of defense did not reveal the location of the strikes, but footage on social media allegedly showed explosions in Syria's eastern province of Deir ez-Zor, which borders Iraq.
Local sources told Iranian broadcaster Press TV that the US missiles had not hit any facilities linked to Iranian groups. Instead, a rural development center and a grain facility were struck, they claimed.
"No Iranian was killed in the act of aggression," the broadcaster stated. It also cited an unnamed military source who vowed that "resistance groups" are planning to respond to the American strikes.
Some 900 US troops remain in oil-rich northeastern Syria after being deployed there in the mid-2010s under the pretext of fighting Islamic State (IS, formerly ISIS) militants. Damascus considers their presence illegal and has repeatedly complained to the UN. The Syrian government's stance is shared by Russia and Iran, who have aided the country in fighting terrorism.
Earlier this month, a Republican-sponsored bill calling for the withdrawal of American forces from Syria failed to pass in the US Congress, losing a vote by 103 to 321.
You can share this story on social media: