Trump responds to indictment
The former US president has denounced the case against him as "political persecution and election interference"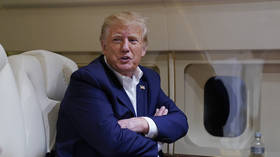 Former US President Donald Trump has accused his political opponents of weaponizing the American justice system to remove "by far the leading Republican candidate" in the next election, following a Manhattan grand jury's decision to indict him.
"I believe this Witch-Hunt will backfire massively on Joe Biden. The American people realize exactly what the Radical Left Democrats are doing here," Trump said in a post on Truth Social on Thursday. He urged his supporters to remain united in order to "throw every last one of these Crooked Democrats out of office."
The grand jury voted on Thursday to indict Trump in a case that centers on an alleged hush payment of $130,000 made to porn actor Stormy Daniels via his then-lawyer Michael Cohen. Trump has consistently denied the affair and any knowledge of the payment, and warned of potentially disastrous consequences if he is arrested.
The Democrats have lied, cheated and stolen in their obsession with trying to 'Get Trump,' but now they've done the unthinkable – indicting a completely innocent person in an act of blatant Election Interference.
Trump did not reveal what his next steps would be, but his lawyer Joe Tacopina has vowed to "vigorously fight this political prosecution in court."
Meanwhile, a spokesman for the Manhattan district attorney's office told AP that prosecutors had reached out to Trump's legal team to "arrange a surrender," expected sometime next week.
You can share this story on social media: