Erdogan accuses West of trying to drag Türkiye into conflict with Russia
Ankara remains eager to continue "serious" mediation between Moscow and Kiev, the Turkish leader says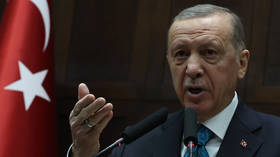 The West will not succeed in its attempts to drag Türkiye into a conflict with Russia, President Recep Tayyip Erdogan has said.
"We're experiencing a world marked by crises and wars. We've been able to build a strong, independent Türkiye in this environment and we need to maintain it," the Turkish leader said in an interview with A Haber broadcaster on Wednesday.
"Had it not been for our efforts in the past two years, the Western club would've dragged Türkiye into a war against Russia. As long as we're here, we won't allow this," Erdogan insisted.
He reiterated Ankara's eagerness to help settle the conflict between Russia and Ukraine at the negotiating table. Peace can be achieved through "serious, determined mediation," he said.
Erdogan's interview comes six weeks before presidential and general elections take place in Türkiye on May 14. The Turkish president and his ruling AK Party are expected to face a tough challenge following a devastating earthquake that killed more than 50,000 people in the country in early February.
Erdogan also spoke about the Ukrainian conflict during a joint press conference with his Hungarian counterpart Katalin Novak in Ankara on Wednesday, stressing that Türkiye wants to secure peace between Russia and Ukraine "as soon as possible."
He suggested that the sides could again meet in Istanbul, where talks were previously held shortly after the outbreak of fighting more than a year ago.
Türkiye has maintained contacts with both Moscow and Kiev throughout the conflict. It condemned the use of force by Russia, but at the same time refused to give in to pressure from the US and its allies to join international sanctions against Moscow.
Ankara was also involved in the UN-brokered deal to allow grain exports from Black Sea ports, which was signed between Russia and Ukraine last July. Earlier this month, the agreement was extended for another 60 days.
Russia maintains that it's ready to resolve the crisis in Ukraine at the negotiating table, but says the proposals set out by Kiev and its Western backers have so far been "unacceptable," leaving it no other choice but to keep pursuing its goals through military means.
You can share this story on social media: