Paris protest turns violent (VIDEOS)
Black-clad demonstrators hurled rocks at police, who responded by baton-charging the crowds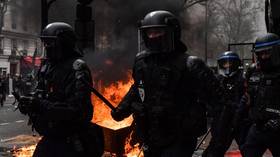 A pension reform protest in Paris degenerated into violence on Tuesday, as groups of masked rioters clashed with heavily-armored riot police. Authorities say nearly 100,000 people marched in the French capital, as public anger over the government's pension reform plan refuses to subside.
The march started out peacefully, but as the crowd neared its destination of Place de la Nation in the east of the city center, activists dressed in black set fire to a storefront, prompting police to charge the crowd with batons drawn. Demonstrators were clubbed back and water cannons brought out to disperse stragglers.
Video footage showed ranks of officers raining down blows upon the frontmost rows of demonstrators, some of whom responded by throwing rocks and other projectiles.
Some videos posted to social media showed officers clubbing groups of demonstrators who were apparently not associated with the masked rioters.
Demonstrators in other areas of the city set garbage cans on fire and caused damage to an unknown number of storefronts.
City authorities say that 93,000 people took part in the protest, down from 119,000 at a similar rally last Thursday. A total of 740,000 people protested in towns and cities across France, the interior ministry said. Labor unions and protest organizers have repeatedly accused the government of undercounting attendance, with the CGT union estimating the turnout in Paris alone at 450,000.
Prior to the rally, Interior Minister Gerald Darmanin deployed 13,000 extra police officers to locations throughout France, 5,000 of them in Paris. Announcing the mobilization on Monday evening, Darmanin said that such a force was necessary as "more than 1,000 radical activists" were preparing to instigate violence at the protests.
France has been hit with constant protests and riots since President Emmanuel Macron bypassed parliament earlier this month to pass a bill raising the retirement age for most workers from 62 to 64. More than a million demonstrators took to the streets across France last Thursday, and more than 450 were arrested in Paris after clashing with police and lighting fires.
At least 22 arrests had been made in Paris by mid-afternoon on Tuesday, police said.
You can share this story on social media: