US classifies footage of 'downed UFOs' – media
The Pentagon has declined to share images of the objects shot down over North America last month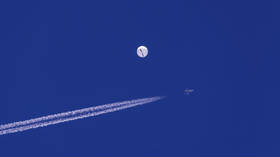 The Pentagon has reportedly admitted that it possesses video or still images of three unidentified flying objects that American fighter jets shot down over the US and Canada last month, but it won't make the footage public.
Videos of the UFOs are classified, and there are no plans to change that status, a Pentagon spokesman told the UK's Daily Mail newspaper on Monday. "I can tell you that there is not currently any images of video footage that we can release. The imagery remains classified."
The decision to keep the footage secret is in sharp contrast to the Pentagon's speedy release of a photo that a US Air Force pilot took of an alleged Chinese spy balloon over Montana in early February. US officials also were quick to provide photos of the balloon being recovered after it was shot down off the coast of South Carolina a few days later.
With tensions running high over the Chinese balloon and President Joe Biden's administration facing criticism for allowing it to traverse the continent, US forces shot down at least three still unidentified objects between February 10 and 12. One was a "car-size object" taken down over Alaska, while another was "cylindrical" and was hit over Canada's Yukon Territory. The third object was intercepted and shot down over Lake Huron. All three were taken out with Sidewinder missiles.
White House National Security Council spokesman John Kirby told reporters last month that the US government might never know for sure what the UFOs were. "We all have to accept the possibility that we may not be able to recover" the wreckage of the three objects. Biden said the UFOs were likely privately owned and were most likely studying weather or doing other scientific research.
Some observers have speculated that the administration is keeping information about the downed objects secret not because of a security issue, but to avoid embarrassment. A hobbyist group in Illinois claimed that it had a small mylar balloon go missing over the Yukon around the same time that the US military shot down a UFO in the region. Such balloons cost as little as $12. Each Sidewinder missile goes for around $472,000.
You can share this story on social media: