Ukraine can't defend itself against Russia's newest jets – ABC
The Su-35 has given Moscow's forces "increasing dominance" of the skies, a Kiev government source has told the network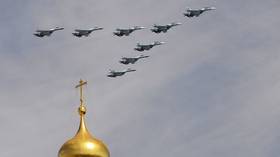 Russia's latest generation of Su-35 fighter jets has capabilities that Kiev's forces can't neutralize, a senior Ukrainian government official has told ABC News.
The newest Su-35s are equipped with "very effective radar and long-distance rockets," enabling them to attack Ukrainian jets and provide air support for Russian ground troops, the unidentified source said in an article posted on Monday. Ukraine "does not have capabilities" to counter this threat, he added.
Kiev sees Russian air superiority as a "real risk," the official admitted, making its push for more air defense systems from the US "priority No. 1" for Ukraine. "This is a problem," another unidentified official said. "What we keep telling the Americans is that in the end, there is no other solution than to give us fighter jets." He claimed that Russia has 12 times more military aircraft than Ukraine.
The latest comments out of Kiev contradict recent claims by Western leaders. Russia's air power in Ukraine is limited by Kiev's air defenses, including surface-to-air missiles, one Western official told reporters in a briefing last week. "We're not seeing a huge change in that situation."
However, the Ukrainian official noted that as Russia replaces older models of aircraft with the latest Su-35, it's gaining a stronger advantage. He conceded that with Washington refusing so far to provide fighter jets to Ukraine, there is increasing acceptance in Kiev that the government should focus on trying to get more air defense systems and artillery from the US.
The governments of Slovakia and Poland pledged last week to give Soviet-era MiG-29 fighter jets to Ukraine. Kremlin spokesman Dmitry Peskov said the two NATO members appeared to be using the Ukraine crisis to dispose of "old equipment they no longer need."
You can share this story on social media: