Another US chemical train derails
At least eight freight trains have crashed across the country since the beginning of February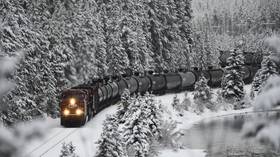 A Canadian Pacific Railway freight train derailed in North Dakota on Sunday, spilling hazardous liquid asphalt from containers. The crash is the latest in a spate of derailments across the US, one of which caused a devastating release of toxic chemicals.
The incident took place near the town of Wyndmere shortly after 11pm on Sunday night, a Canadian Pacific spokesman told local media. Richland County Emergency Manager Brett Lambrecht said that 31 cars of the 70-car train left the track, some of which were carrying liquid asphalt.
Liquid asphalt is a flammable petroleum-based product, but Lambrecht said that cold temperatures will allow the material to solidify and reduce the chance of fire.
The cleanup operation is expected to last between seven and ten days, local radio reported, citing emergency workers.
The incident follows the derailment of at least seven other freight trains across the US since the beginning of February. Another Canadian Pacific train, carrying wheat, went off the rails in a Chicago suburb earlier on Sunday, while five freight cars operated by CSX Transportation left the track in Massachusetts on Thursday.
An industrial train spilled corn syrup in a derailment in Arizona earlier this month, while a train derailed in West Virginia a week earlier, spilling diesel into a river. February saw a coal train in Nebraska and a train carrying agricultural products in Michigan go off the tracks, as well as a disastrous wreck involving a Norfolk Southern Railway train in East Palestine, Ohio.
A total of 38 cars derailed in East Palestine, catching fire and spilling toxic vinyl chloride into the atmosphere. Authorities burned off thousands of gallons of the chemical, blanketing the town under choking black smog that residents claim is still causing skin rashes and respiratory illnesses.
The Biden administration was criticized for its handling of the incident, with former President Donald Trump visiting the site and President Joe Biden opting not to. Transportation Secretary Pete Buttigieg toured East Palestine several weeks after the accident and earlier this month urged Congress to pass stricter safety legislation for freight railways.
You can share this story on social media: