US and Canada strike border deal
President Biden said Washington and Ottawa will address the "historic levels of migration in our hemisphere"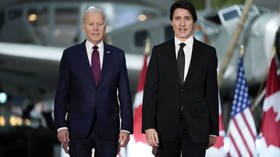 The US and Canada have announced an immigration plan that will change the way they take in asylum seekers. While Ottawa vowed to accept 15,000 additional migrants, the deal allows both countries to reject those who arrive at unofficial border crossings.
US President Joe Biden unveiled the new agreement alongside Canadian Prime Minister Justin Trudeau on Friday, claiming it would bring more "fairness" to the immigration process.
"We're also making good on our commitment to address the historic levels of migration in our hemisphere," he said during a visit to Canada, commending Trudeau for "opening new legal pathways for up to 15,000 migrants to come to Canada from countries in the Western Hemisphere."
While asylum seekers could previously file their claims at any legal port of entry in Canada, a 2004 pact between Washington and Ottawa required them to do so at the first country in which they arrive after leaving home.
However, in the years since, tens of thousands of migrants have claimed asylum at informal crossings in Canada, apparently hoping to get around the rules. Nearly 40,000 people entered Canada through unofficial border points bordering New York state last year alone.
Under the new agreement, Ottawa will be permitted to reject asylum claims at such irregular ports, effectively extending the 2004 deal to cover the entire 5,500-mile US-Canada border, not only legal points of entry.
Dubbed the 'Safe Third Country Agreement', the 2004 arrangement previously came under fire from immigration advocates, who said it encouraged asylum seekers to risk longer, more dangerous trips to reach regular border points.
In hailing Trudeau for agreeing to accept 15,000 new migrants when the deal takes effect on Saturday, Biden accidentally paid tribute to China instead, drawing an uproar of laughter from a crowd of Canadian lawmakers.
"Today, I applaud China for stepping up... Excuse me, I applaud Canada," he said, quickly adding "You can tell what I'm thinking – about China. Won't get into that yet."
The US has also faced a major wave of illegal immigration in recent years, with border officials reporting nearly 2.4 million encounters with undocumented migrants just in 2022, the vast majority coming from Central and South America.
You can share this story on social media: