Hundreds surge across US-Mexico bridge (VIDEO)
The incident followed rumors that the border was to be opened to grant political asylum to migrants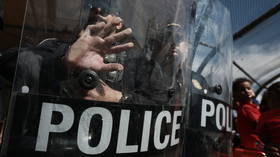 Dramatic footage shot on Sunday showed hundreds of mostly Venezuelan migrants surging across the Paso Del Norte bridge which links Mexico and the US, in a bid to gain entry to America.
US Customs and Border Protection (CBP) agents used crowd control measures to stem the flow of people after the large group, which contained men, women and children, attempted to demand asylum, Fox News reported.
The mass migration effort came amid rumors that the border was to be opened to fast-track asylum applications, according to Mexican outlet Norte Digital.
"Please, we just want to get in so we can help our families," Reuters quoted Camila Paz, an 18-year-old would-be migrant, as saying. "So I can have a future and help my family."
Footage from the scene showed the large crowd surging towards gates on the southern US border, with many pleading with agents to allow them to pass.
BREAKING: Another video from our contact showing this massive migrant group trying to rush Paso Del Norte bridge in El Paso in an attempt to get into the United States. pic.twitter.com/q9v2myX333

— Bill Melugin (@BillFOXLA) March 12, 2023
Multiple El Paso law enforcement agencies have responded to the Paso Del Norte Bridge to assist U.S. Customs and Border Protection after a group of people forced their way to the top of the bridge and are blocking traffic.Story: https://t.co/nBIkimPTjhpic.twitter.com/1OL605snd8

— Border Report (@BorderReportcom) March 12, 2023
Officers in riot patrol gear were also seen in the footage on both sides of the border, with some migrants claiming that they were targeted with pepper spray.
CBP agents confirmed that they used "port hardening measures" to deal with a "potential threat to make a mass entry." They also stated that additional officers were deployed to two other bridges in the area.
The standoff had largely receded by 5:30pm local time – around four hours after it began – with the Paso Del Norte bridge reopened an hour after that, according to officials.
Many migrants are understood to have lost faith in the asylum system after the administration of President Joe Biden launched a mobile application called 'CBP One' which was designed to increase the efficiency of applications. However, the app has failed to meet the high demand, critics say.
Republican lawmakers have blamed Biden for exacerbating problems at the US-Mexico border by removing policies from the Donald Trump era, such as the defunding of the border wall project which had become a key – if controversial – strategy of the Trump administration.
Biden, meanwhile, has hit out at Republican opposition to immigration reform proposals announced early into his presidency.
You can share this story on social media: