Huge spike in terrorist suspects caught entering US
Border Patrol apprehended more people in one month than in the four years of Donald Trump's presidency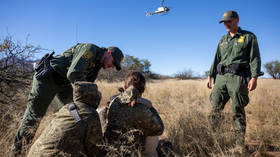 US federal agents arrested 38 suspected terrorists at the southern border in the final three months of 2022 as the flow of illegal aliens into the country surged to an all-time high. The suspects were named on the terror watchlist in October-December, according to Customs and Border Protection (CBP) data.
In the government's latest fiscal year, which ended on September 30, 98 suspected terrorists were caught while trying to cross the southern US border, up more than sixfold from the preceding 12 months.
Since President Joe Biden took office in January 2021, about 150 people in the US terrorist screening database have been apprehended at the border. By comparison, there were 14 such arrests during former president Donald Trump's four years in office – fewer than the 17 caught last month alone.
Suspected terrorists still make up a tiny percentage of the overall flow of illegal alien traffic at the southern border, but the rate has jumped nearly ninefold since Biden took office.
The CBP didn't offer an estimate for how many terrorists evaded arrest as they crossed the southern border in recent months. However, among illegal aliens overall, an estimated 600,000 "got-aways" entered the US last year without being apprehended. Such migrants are seen by border agents but not caught, meaning an unknown number of additional people cross into the US without being detected. The US Immigration and Customs Enforcement (ICE) agency deported 55 suspected terrorists last year.
Federal agents at the southern border encountered nearly 252,000 illegal aliens in December, an all-time high. Since Biden's first full month in office, more than 4.5 million migrants have been apprehended at the US-Mexico border.
Republicans have blamed Biden's "open-border" policies for creating the crisis. Those policies have sent a message of "come one, come all" to "terrorists, criminals and drug traffickers and cartels," said Senator Bill Hagerty, a Tennessee Republican.
America's record-shattering illegal immigration & criminal activity at our southern border was perpetrated by the Biden-Harris Admin's wide-open border policies that sent a greenlight, "come one, come all" message to terrorists, criminals, human & drug traffickers, and cartels. https://t.co/MyeX0wFBe0

— Senator Bill Hagerty (@SenatorHagerty) January 22, 2023
You can share this story on social media: