Cost of Ukraine reconstruction assessed
The estimated cost of rebuilding and restoring Ukraine has surpassed the $400 billion mark, a fresh report suggests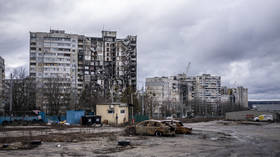 The estimatd cost of Ukraine's reconstruction and recovery bill has grown to $411 billion, according to a new assessment conducted by the country's government, the World Bank, the European Commission, and the UN.
According to the evaluation, Kiev would require $14 billion this year alone for the most critical and prioritized reconstruction investments. The estimated costs mean the country's government will need $11 billion in external financing on top of the sum already allocated for these tasks in the annual budget, according to the assessment.
"Energy infrastructure, housing, critical infrastructure, the economy, and humanitarian demining are our five priorities for this year," Ukrainian Prime Minister Denis Shmigal said in a statement.
The new evaluation represented a $60 billion increase on the previous assessment released by the group last September. Back then, the estimated costs of recovery and repair amounted to $349 billion. The figures apparently indicate that most of the damage to the country was inflicted over the first six months of the ongoing conflict with Russia, which began late in February 2022.
The figures "should be considered as minimums as needs will continue to rise as long as the war continues," the report noted. According to the World Bank's vice president for Europe and Central Asia, Anna Bjerde, the reconstruction of Ukraine will "take several years," with the official providing no estimates as to when it might actually begin.
Bjerde also said that public investments in Ukraine should be "complemented by significant private investment to increase the available financing for reconstruction." It was not immediately clear who exactly was expected to foot the bill.
According to Shmigal, "the amount of damage and recovery needs currently does not include data on the loss of infrastructure, housing, and businesses in the occupied territories." The PM was apparently referring to the former Ukrainian territories that were incorporated into Russia last year following referendums – Kherson and Zaporozhye Regions alongside the Donetsk and Lugansk People's Republics – as well as Crimea, which broke away from Ukraine and reunified with Russia back in 2014 following the Maidan coup in Kiev.
You can share this story on social media: