Trump wants to be handcuffed in court – media
The former US president has indicated on social media that he expects to be arrested in hush-money case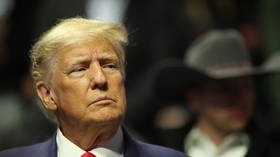 Former US president Donald Trump has told his advisers that he would like to be handcuffed in a potential upcoming court appearance if he is indicted by a Manhattan grand jury for his role in allegedly paying hush money to adult film actress Stormy Daniels, according to reports by The Guardian and the New York Times.
Citing multiple sources from within his camp, both newspapers state that if Trump is required to surrender himself to authorities for fingerprinting and a mugshot, he may attempt to make a "spectacle" of the situation. Trump noted on social media last week that he expected to be arrested in the case on Tuesday of this week, though this failed to materialize.
Trump's motivations for doing so, The Guardian writes Wednesday, are linked to his belief that the alleged campaign-finance violation for which he is being investigated is an unfair prosecution. In addition, there is a belief that images of him being led by police into a courthouse could strengthen the resolve of his political base ahead of his campaign to secure the 2024 Republican presidential nomination.
The Guardian also reported sources as saying that the former US president is concerned about portraying a weak image if he were to appear in court remotely via video link, or if he was afforded special treatment by authorities. He also expects the situation to be a political quandary for his rivals in the Republican party, who might be forced to publicly defend him in the face of prosecution, the newspaper says.
It was reported by Bloomberg on Monday that Trump's status as a former head of state would likely mean that he would be given special considerations by Manhattan DA Alvin Bragg ahead of any court date. This includes not being handcuffed for a so-called 'perp walk' while being escorted into the facility by his existing Secret Service detail.
The case centers on an alleged payment of $130,000 made by Trump to Stormy Daniels via his then-lawyer Michael Cohen, during the final stages of his campaign for the US presidency in 2016. It was alleged in a legal case against Cohen that Trump later reimbursed him with several payments of $35,000 which were recorded as legal expenses, opening up further allegations of possibly falsifying business records, the non-payment of tax and potential violations of campaign finance law. Cohen pleaded guilty in 2018 to federal charges related to the alleged hush-money payment.
It remains uncertain when –or if– the Manhattan grand jury might pursue an indictment of Trump, in a case which could break new legal ground in the United States and make him the first present or former US president ever to face criminal charges.
You can share this story on social media: