Trump won't be handcuffed if arrested – Bloomberg
The former US president will likely remain in the custody of Secret Service agents, a source claims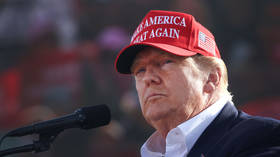 Donald Trump's status as a former US president will most likely result in him receiving special treatment if he's charged over allegedly making hush-money payments to porn star Stormy Daniels, Bloomberg has reported on Monday.
Former federal prosecutor Temidayo Aganga-Williams explained to the outlet that security considerations in detaining a former head of state "are different here than if he was a private citizen," and that "he is less likely to be seen as a security threat than a previously unknown defendant."
Another Bloomberg source, who wished to remain anonymous, suggested that while Trump would be fingerprinted and have his mugshot taken, he's unlikely to be placed in a holding cell or subjected to a so-called perp walk, where he would be handcuffed and marched in front of cameras. Instead, Trump would likely remain in the custody of Secret Service agents assigned to his protection detail, the person claimed.
Trump warned in a Truth Social post over the weekend that he would be possibly arrested on Tuesday by the "corrupt and highly political Manhattan district attorney's office." He called on his supporters to "protest" and "take our nation back."
Manhattan DA Alvin Bragg has neither confirmed nor denied reports of a possible arrest. However, it is known that his office has been investigating Trump for almost five years for allegedly directing his former lawyer Michael Cohen to pay porn star Stormy Daniels $130,000 to supposedly secure her silence during the 2016 presidential campaign.
Earlier this month, the Manhattan DA's office officially invited the former president to testify before a grand jury investigating the case – a move that people familiar with the matter say suggests the prosecution may be nearing an indictment.
While Bragg's office may yet choose not to seek Trump's arrest, federal, state and local law enforcement agencies have reportedly been discussing security preparations in the event of the former president being indicted, according to multiple media outlets, citing anonymous sources.
Trump's lawyers, meanwhile, have accused Bragg of "weaponizing" the legal system and leveraging a misdemeanor charge into a felony, despite federal prosecutors not even deeming it worthy of prosecution.
Florida Governor Ron DeSantis, as well as other top Republican leaders, have blasted the New York prosecutor for using his position to pursue a leftist political agenda and ignoring actual crimes that happen in the city every single day.
You can share this story on social media: