'Terrorist' weapons stockpile found in Belarus – Lukashenko
Security forces have reported the discovery of an arsenal two days after killing a suspect near the country's border with Poland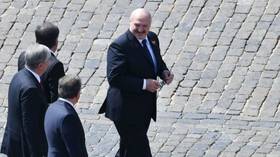 Belarusian security forces have found a cache of weapons set aside for terrorists, President Alexander Lukashenko has claimed. The discovery prevents potential attacks on the country just two days after a foreign terrorist suspect was killed near the Polish border, he added.
"The special services have worked brilliantly," Lukashenko said on Tuesday at a government conference in Minsk. "An entire arsenal of weapons and explosives was seized. These weapons were intended for high-profile terrorist attacks against individuals and government officials."
Lukashenko also praised security forces for their success on Sunday in killing a suspected terrorist in Grodno without suffering any casualties, even though the man allegedly used grenades and automatic weapons. "As I often say, people who risk their lives should always be acknowledged and supported."
Sunday's shootout involved a man suspected of planning a terrorist attack, the Belarusian KGB securitgy agency said. A Belarusian television report on Tuesday said a forged passport in the name of a Russian citizen had been found on the body.
Security forces have stepped up raids and arrests since a drone attack last month on a Russian spy plane at an airfield near Minsk. Tensions with neighboring Poland and Ukraine have escalated since Russia began its military operation against Kiev last year. Belarus is a close ally of Moscow and has hosted Russian forces and equipment.
The chief suspect in the plane attack is Nikolay Shvets, a Russian and Ukrainian citizen who was allegedly acting on Kiev's behalf. Lukashenko said Shvets had admitted to working for Ukraine's SBU security service and used advanced technology, including software developed by America's CIA, in the attack.
Bypol, an anti-government group formed by former law enforcement officers, claimed responsibility for damaging the Russian plane, though group head Alexander Azarau told Associated Press on Tuesday that the group had nothing to do with the events in Grodno. He suggested that the Belarusian government may have staged the incidents to create the appearance of a threat from NATO or Poland.
"We should not lower our guard," Lukashenko said, adding "This is another signal to us. We have to be prepared for any events."
You can share this story on social media: