Jury reaches verdicts on US riot defendants
Four members of the Oath Keepers militia group have been found guilty of felonies for their roles in the 2021 Capitol breach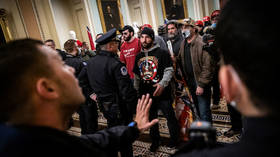 Prosecutors in Washington have won felony convictions against four members of the Oath Keepers militia for their participation in the US Capitol riot, but jurors have been unable to reach a consensus on whether two other defendants conspired to block congressional certification of Joe Biden's presidential election victory.
William Isaacs, Connie Meggs, Laura Steele, and Sandra Parker were found guilty on Monday of conspiracy to obstruct an official proceeding. They had been accused of entering the Capitol during the January 2021 riot and trying to get into the US Senate chamber before being stopped by police.
Biden's Department of Justice also filed multiple conspiracy charges against two other Oath Keepers members, Michael Greene and Bennie Parker. Jurors found each of the men innocent on one of the charges and remained deadlocked as of Monday afternoon on the second count, after a week of deliberations.
All six defendants were found guilty of entering or remaining in a restricted area. If the jury isn't able to agree to guilty verdicts on the remaining conspiracy charges against them, Greene and Parker will face sentencing for only their misdemeanor convictions. Neither man was alleged to have entered the Capitol building, but both were accused of aiding or abetting a conspiracy to obstruct Biden's election certification.
Nine other Oath Keepers members were convicted on felony charges, including obstruction of an official proceeding, in earlier Capitol riot trials. Six of those, including militia founder Stewart Rhodes, were convicted of the rare and more serious charge of seditious conspiracy. Like Greene and Parker, Rhodes never entered the Capitol.
The latest trial came amid increasing controversy over the riot. US House Speaker Kevin McCarthy, a California Republican, last month released 41,000 hours of Capitol riot surveillance footage to Fox News host Tucker Carlson. The videos had previously been kept under wraps by investigators, including prosecutors who allegedly withheld the footage from defense lawyers for riot defendants. Carlson aired several of the clips earlier this month and argued that many of the election-fraud protestors who entered the Capitol behaved peacefully. "These were not insurrectionists, they were sightseers."
You can share this story on social media: