Most Trump supporters think protest call is a January 6 'trap' – poll
The former US president's plea for followers to 'protest, protest, protest' his anticipated arrest will get them in trouble, they said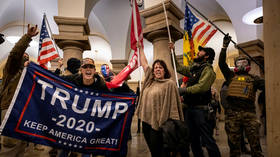 Taking to the streets to protest the predicted arrest of former US president Donald Trump would be walking into a trap similar to the January 6, 2021 'Stop the Steal' debacle, according to a whopping 85% of respondents to a poll posted by conservative commentator Paul Joseph Watson to Truth Social on Sunday.
"Is the potential protest against Trump being arrested a J6-style trap?" the poll asked 1,580 Truth Social account holders. Describing the results as "interesting," Watson implied that respondents not using the former president's own social media platform would be even less likely to trust Trump's calls to "take our nation back."
The 2024 presidential hopeful first hinted at his looming arrest in a Truth Social post on Saturday, crediting "illegal leaks" from Manhattan District Attorney Alvin Bragg's office with tipping him off. He has since pleaded for support in multiple all-caps missives, imploring his followers, "WE MUST SAVE AMERICA! PROTEST, PROTEST, PROTEST!!!"
Mike Cernovich, another ostensibly pro-Trump conservative commentator, advised the ex-president's fans to stay home on Tuesday "unless y'all really want to become stars in a sequel to January 6th."
Originally a nonviolent protest against the certification of the allegedly fraudulent 2020 election results, 'Stop the Steal' devolved into a riot as hundreds stormed the Capitol building following a speech by then-president Trump. While the vast majority never even entered the building, let alone damaged property or assaulted government employees, several demonstrators died in the melee and the entire group was portrayed in most media reports as armed, dangerous, and a threat to American democracy. Over 1,000 rally participants have been methodically hunted down and charged in the intervening two years.
"The last time Trump's biggest fans protested on his behalf, he left them all to rot in jail without so much as a penny from him in legal fees," conservative author Jesse Kelly reminded Trump fans. "Do NOT go into a blue area and protest for this man."
While Bragg's office has refused to confirm or deny a pending indictment against Trump, reports of the DA discussing "security preparations" with several law enforcement agencies ahead of actually placing him in handcuffs surfaced over the weekend. Trump turned down an offer to testify before a grand jury regarding the Stormy Daniels hush money scandal earlier this month, a formality generally understood to be a prelude to charges being filed.
You can share this story on social media: