Asian leader warns Putin warrant could spark nuclear war
The ICC action against the Russian president could lead to dire implications in Europe and elsewhere, Cambodian PM Hun Sen believes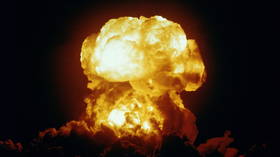 The issuance of an arrest warrant for Russian President Vladimir Putin by the International Criminal Court (ICC) could lead to nuclear war, as well as creating other implications globally, Cambodian Prime Minister Hun Sen has warned.
The warrant has only sowed further division in the world, potentially jeopardizing diplomatic efforts to reach a settlement of the conflict between Russia and Ukraine, which has been raging for over a year already, the PM believes.
"This ICC warrant to arrest Putin will complicate efforts to find a peaceful solution to the conflict between Ukraine and Russia, especially before [Chinese] President Xi Jinping's visit to Moscow during which he is expected to mediate for peace," the PM said in a social media statement on Sunday.
The warrant also poses a threat to international efforts in other spheres, namely tackling "global issues such as climate change and diseases," the Cambodian leader said. Moreover, the ICC move has sharply increased the risk of events spiraling into a nuclear exchange in Europe, the PM warned.
"Will Putin agree to be arrested without confrontation? If the ICC tries to arrest him, would the Russian authorities be willing to allow this to happen easily?" he said, noting that while the ICC currently has 123 member states, a number of major countries, such as the United States, Russia, India and China do not recognize it, while the body itself has no authority to arrest any suspects without the cooperation of national governments.
The ICC issued an arrest warrant for the Russian president and the presidential commissioner for children's rights, Maria Lvova-Belova, on Friday. The court alleged that the two were involved in the "unlawful deportation" of children "from occupied areas of Ukraine to the Russian Federation."
Moscow has called the charges unacceptable, with Kremlin spokesman Dmitry Peskov saying that the warrants are "null and void from the legal standpoint," and that the court's jurisdiction is not recognized in Russia. The Russian Investigative Committee has launched a criminal case of its own against the ICC prosecutor and judges, describing their decision as "obviously illegal, since there are no grounds for criminal liability."
You can share this story on social media: