US resumes Black Sea drone flights
A Global Hawk drone remained at least 100km from Crimea after the Reaper crash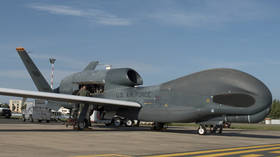 The US military sent another spy drone over the Black Sea on Friday, maintaining distance from the restricted airspace in which an MQ-9 drone, flying 'silently' without a transponder, crashed earlier this week after being intercepted by Russian jets.
Flight tracking sites showed a UAV with the callsign Forte10, identified as a RQ-4 Global Hawk, circling over Romanian airspace before flying south and east. The drone circled over the eastern part of the Black Sea, but never came closer than 100 kilometers to Crimea.
The Black Sea portion of the mission took only two hours, instead of the usual 12, one pro-Ukrainian observer tweeted, calling it "definitely the strangest route that I have ever seen the RQ-4 take."
Unnamed US officials later confirmed the mission to Reuters, saying it was the first such flight since Tuesday's incident. However, the Pentagon had previously said another drone had been dispatched to monitor a possible salvage operation by the Russian Navy.
On Tuesday morning, two Russian jets intercepted an American MQ-9 Reaper inside the restricted airspace, according to the Russian Defense Ministry. Moscow said the drone lost lift due to erratic maneuvers and dropped into the water. The incident happened about 60km southwest of the port city of Sevastopol.
The US military's European Command accused the Russian pilots of "unsafe and unprofessional" flying, eventually releasing a video that shows jets repeatedly dousing the drone with fuel. According to the US, the drone crashed after a Russian jet struck its propeller. The Russian military said neither airplane made contact with the UAV.
After the incident, the Pentagon's top military and civilian leadership reached out to their Russian counterparts for the first time in months, while the State Department summoned Moscow's envoy to Washington.
Ambassador Anatoly Antonov later said he had conveyed to his hosts the position that US drones have no business flying so close to Russia. Russian Defense Minister Sergey Shoigu said both pilots will receive an award for their actions.
The US military said on Thursday it was "weighing the costs and benefits" of further drone operations and "taking a close look" at their routes in order to reduce the risk of more incidents.
Washington has admitted to providing Ukraine with intelligence, surveillance, and reconnaissance information in the conflict against Russia, while insisting it is not a party to the hostilities. US and NATO spy aircraft routinely fly over the Black Sea and approach Crimea, sometimes just before Ukrainian forces launch attacks on the Russian peninsula.
You can share this story on social media: