Pakistani High Court suspends arrest warrant for former PM
Earlier attempts to detain Imran Khan led to violent clashes between police and his supporters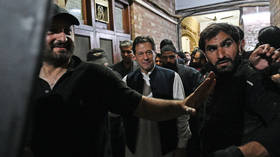 Pakistan's High Court has suspended an arrest warrant for former Prime Minister Imran Khan, local news outlet Dawn reported on Friday. This follows a confrontation between police and the politician's supporters during a failed attempt to enforce the warrant.
The Lahore High Court ruled on nine cases against Khan, who is the leader of the Pakistan Tehreek-e-Insaf (PTI) party. The judges granted Khan freedom until hearings on March 24 and March 27 in Islamabad and Lahore, respectively.
A video posted on the party's official Twitter account shows the PTI leader leaving the court in a car following the ruling, on the roof of which was stationed a man carrying an assault rifle. The vehicle was surrounded by a crowd of supporters armed with sticks.
This decision comes directly after an attempt to detain the politician at his residence in Lahore ended in a violent clash between the authorities and PTI supporters on Wednesday.
Khan claimed on Twitter that the police's real intent was to "abduct and assassinate" him rather than merely enforce the warrant. He also claimed that law enforcement used tear gas, water cannons, and even resorted to firing live rounds.
This was not the first failed attempt to arrest Khan, as he also avoided police last week, claiming the court lacked the necessary security to protect him from assassination attempts.
Khan became prime minister of Pakistan in 2018 but was ousted in 2022 and has since been embroiled in legal disputes. The state accuses him of unlawfully selling state gifts given to him by foreign dignitaries during his tenure. Khan claims the cases are politically motivated and aimed at preventing him from returning to power.
The PTI has been leading protests across Pakistan and calling for snap elections. During a November rally in Wazirabad, an attacker opened fire on Khan, injuring him and eight others.
You can share this story on social media: