Serbian leader rebukes minister over Russia sanctions
Aleksandar Vucic told reporters that he, and not some minister, will announce any policy changes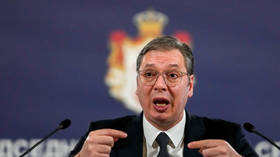 Serbian President Aleksandar Vucic brushed off the demands of one of his cabinet ministers to join the EU sanctions against Russia, telling reporters on Thursday that the long-standing policy might change only if there is no other way.
"Our position is to not impose sanctions," Vucic told reporters in Belgrade, before departing for North Macedonia for talks regarding the breakaway province of Kosovo.
Implying that this policy might be changed only in "circumstances when there is no way out," Vucic said he, Prime Minister Ana Brnabic and Foreign Minister Ivica Dacic would know best if and when that became the case, adding that he would make such an announcement personally.
Whether that is within a month or five months, I don't know. But our policy has persisted for over a year under the most difficult conditions, and no Basta will change it.
Vucic was responding to social media posts by Economy Minister Rade Basta, who earlier this week argued that Belgrade should sanction Moscow because the Western pressure was becoming unbearable. Basta's own party disavowed his comments, and some members of the ruling coalition called for his resignation.
Individual ministers can't go to the public with positions that are opposed to the majority of their colleagues in the cabinet, Vucic told reporters. As of Thursday, Basta remains in his post.
Russian Foreign Ministry spokeswoman Maria Zakharova reacted by saying it was strange that Basta was complaining about Russia but did not seem to mind US and EU pressure. Basta tried to make a point that Zakharova was herself under Western sanctions, asking her to come to dinner in Serbia "if she could find a way to come." The Russian diplomat politely reminded the Serbian minister it was Lent, but that she would gladly visit one of Moscow's many Serbian restaurants after Easter.
Serbia has resisted pressure from the EU and the US to sanction Russia over the conflict with Ukraine, pointing out that the West is demanding Belgrade recognize Kosovo as independent but insisting on territorial integrity for Kiev.
Vucic is scheduled to meet with US and EU envoys and the leader of Kosovo's ethnic Albanian government in Ohrid on Friday, to discuss the so-called Franco-German "normalization" plan.
The document, made public by the EU last month, includes provisions that would require Serbia to de facto recognize Kosovo and "harmonize" its foreign policy with Brussels, meaning sanctions against Russia.
You can share this story on social media: