AUKUS deal 'worst in history' – former Australian PM
Buying US-designed nuclear submarines to be "sunk" near China is no way to defend the country, Paul Keating said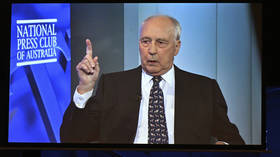 Former Australian Prime Minister Paul Keating has fired a broadside against the current government for its endorsement of the AUKUS security bloc and the purchase of American submarines. It doesn't help protect the country and drags it into the US attempt to preserve its hegemony by containing China, he has argued.
Keating, who chaired the Australian government in the 1990s, reiterated his negative view of the purchase of Virginia-class nuclear-powered boats in a lengthy rebuke this week. He branded it the "worst international decision" by an Australian Labor government since conscription in World War I. Speaking to journalists from the National Press Club of Australia on Wednesday to make the case for his position, he added "it must be the worst deal in all history."
Prime Minister Anthony Albanese formally confirmed the acquisition on Monday during a visit to California, where he and British Prime Minister Rishi Sunak were hosted at a naval base by US President Joe Biden. The plan was first announced in 2021, with Keating blasting the then-Conservative government in Canberra.
Figures in the British government were "looking around for suckers," the famously acerbic Aussie politician said of the prelude to the announcement two years ago. "And they found – whoo! – here is a bunch of accommodating people in Australia." The Albanese cabinet was just as eager to push the deal forward, he added.
The Australian Royal Navy is buying up to five attack submarines from the US and possibly building three more with the UK's help. The deal is estimated to cost 360 billion Australian dollars ($240bn).
With that investment, Australia could have 40 to 50 domestically-built Collins-class diesel-electric submarines instead, Keating suggested.
A larger fleet would be far better at protecting Australia from a possible invasion, which would require an "armada of troops ships" reaching its coast, he believes. Meanwhile, the nuclear subs would be sent to the Chinese coast to potentially take part in a US-Chinese conflict, the former prime minister suggested.
"It's a strange way to defend Australia to have your submarines sunk on the Chinese continental shelf chasing Chinese submarines," Keating mused.
"We are part of a [US] containment policy against China," he added. "It's about one matter only: the maintenance of US strategic hegemony in Southeast Asia."
The politician dismissed as "rubbish" the idea that China poses a military threat to Australia in the first place and shamed national journalists peddling it.
You can share this story on social media: