Details of AUKUS nuclear sub deal revealed
Canberra will buy its first nuclear-powered submarines from the US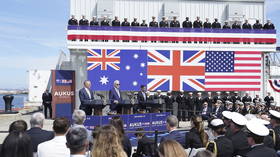 Australia has followed through on its controversial military partnership with the US and UK, agreeing to buy as many as five nuclear-powered submarines from Washington and starting work on developing a new generation of subs with Britain.
The initial deal includes the purchase of three Virginia-class submarines from the US, for delivery in early 2030s, and an option to buy two more, leaders of the three countries announced on Monday at a meeting in San Diego. Plans also call for developing new submarines, called SSN-AUKUS, that will be built in the UK and Australia with US technology and support.
Speaking at Naval Base Point Loma in San Diego, President Joe Biden said the three allies were at "an inflection point in history, where the hard work of enhancing deterrence and promoting stability is going to affect the prospect of peace for decades to come." Australian Prime Minister Anthony Albanese called the submarine agreement "the biggest single investment in Australia's defense capability in all of our history."
Chinese officials have argued that the AUKUS venture violates the Nuclear Non-Proliferation Treaty (NPT) because it involves the transfer of nuclear technology to a state that's not yet nuclear-armed.
The US-built subs are fueled by weapons-grade highly enriched uranium, but the Australian Foreign Ministry has argued that since the vessels won't be nuclear-armed, they won't break with the country's anti-proliferation commitment. "Naval nuclear propulsion is not prohibited – but is in fact contemplated – by the NPT."
Australia torpedoed a $66 billion deal to buy conventionally fueled French submarines when the secretly brokered AUKUS partnership was launched in 2021, opting for the superior stealth of nuclear-powered subs.
UK Prime Minister Rishi Sunak said the partnership reflects growing geopolitical challenges, "including Russia's illegal invasion of Ukraine, China's growing assertiveness and destabilizing behavior of Iran and North Korea." In addition to submarines, AUKUS includes cooperation on artificial intelligence, hypersonic weapons and other advanced defense technologies.
The submarine agreement marks just the second time in US history – and the first time in 65 years – that Washington has shared its nuclear-propulsion technology with another country.
Beijing has accused the AUKUS partners of undermining peace and stability in the Asia-Pacific region by operating under a "Cold War mentality."
You can share this story on social media: