Nord Stream blasts staged by a state-level actor – Putin
The Russian president has rubbished Western media reports that a "pro-Ukrainian group" was behind the attacks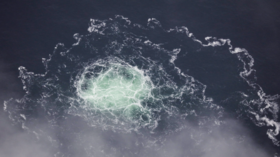 Russian President Vladimir Putin has dismissed as "nonsense" recent claims that the attack on the Nord Stream natural gas pipelines might have been carried by "pro-Ukrainian activists." He made the remarks on Tuesday during a visit to an aircraft plant in the capital city of Russia's Buryatia republic, Ulan-Ude.
"I'm sure this is complete nonsense. An explosion of this kind – of such power, at such depth, can only be carried out by specialists, and supported by the entire power of a state, possessing certain technologies," Putin told reporters.
Media reports, suggesting that a shadowy "pro-Ukrainian group" might have been behind the blasts on the pipelines at the bottom of the Baltic Sea, emerged last week. The New York Times cited anonymous sources saying that "no American or British nationals were involved" in the operation.
Separately, multiple German outlets reported that the country's investigators probing the blasts had found a yacht, allegedly used for the attack, which belonged to a Polish-based firm but was "apparently owned by two Ukrainians."
The yacht reports emerged shortly after a bombshell investigation by veteran American journalist Seymour Hersh, who said US President Joe Biden's administration had staged the attack on the pipelines with assistance from Norway.
According to his sources, the explosives were planted by US Navy divers last June under the guise of a NATO exercise and detonated remotely in September. The White House was quick to dismiss the allegations by the Pulitzer Prize-winning journalist, branding them "utterly false and complete fiction."
You can share this story on social media: