Yacht 'linked' to Nord Stream blasts located – media
Der Spiegel claims 'Andromeda' is moored in the open air at a former Navy base in north-east Germany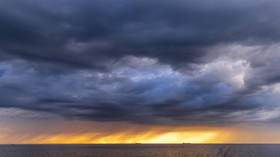 A vessel allegedly linked to the sabotage of the Nord Stream pipelines is currently anchored off the north-east coast of Germany in the Baltic Sea, Der Spiegel has reported. The German news website also claimed one of the e-mail addresses used by the alleged bombers might point to Ukrainian involvement.
According to Monday's report, Der Spiegel journalists found the 'Andromeda' yacht on the Bug peninsula in the Dranske municipality, in Mecklenburg-Vorpommern region, which used to serve as a base for the German Democratic Republic's Navy.
Currently, the site is allegedly being used by a charter firm which, as several German media outlets have claimed, rented out the vessel to the suspected saboteurs on September 6. The report alleged that one of the crewmembers, who paid for the yacht in cash, flashed a "Bulgarian or Romanian passport." The company supposedly has the number of his ID document and boating license details.
In addition, an e-mail address used by one of the individuals "could, according to Der Spiegel's investigation, point to Ukraine." However, the outlet cautioned that this does not necessarily mean the Ukrainian government was involved in the alleged operation, noting that it might be a deliberate red herring.
The version of events suggesting that the yacht was used to plant the bombs began circulating in the German media earlier this month. Several outlets claimed a team of six people, including a captain, two divers, two diving assistants, and a female doctor were behind the attack. According to initial reports, the alleged saboteurs presented "professionally forged passports," meaning that their identities and nationalities were unknown.
Last Tuesday, the New York Times released a report, citing anonymous US intelligence officials, that alleged a "pro-Ukrainian group" was behind the September 2022 attacks, with "no American or British nationals" involved.
The following day, the German Prosecutor's Office confirmed that the vessel had been searched in January, but stopped short of divulging further details.
Commenting on the reports, top Ukrainian officials have denied any involvement.
The Kremlin, for its part, has been skeptical of theories pointing to Kiev, with Press Secretary Dmitry Peskov saying it looked like an attempt to deflect attention from the real culprits.
"As for a pro-Ukrainian 'Dr. Evil' who organized this, it's hardly believable," he said on Thursday.
Last month, veteran American investigative journalist Seymour Hersh released a bombshell report accusing Washington of destroying the Nord Stream pipelines.
You can share this story on social media: