Kremlin comments on grain deal renewal
Obligations to Russia under the agreement remain unfulfilled, presidential press secretary Dmitry Peskov insisted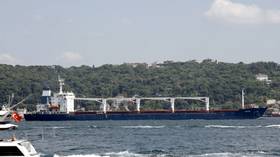 The extension of the UN- and Türkiye-mediated agreement on exporting Ukrainian grain via the Black Sea is a gesture of goodwill by Russia, Kremlin press secretary Dmitry Peskov has said.
Earlier on Tuesday, the Deputy Foreign Minister of Russia Aleksandr Grushko confirmed that Moscow agreed to renew the deal but for just 60 days, as it remains unhappy with the failure to secure the lifting of Western restrictions on Russian food and fertilizer trade. The agreement was set to expire on March 18.
"As you understand, the deal can't stand on one leg. Therefore, the conditions for the extension are, of course, quite relative," Peskov told journalists about the prolongation.
"This is, of course, a kind of a gesture of goodwill on the part of Russia in the hope that – after such a long time – the conditions and obligations that were taken on by the well-known parties will be fulfilled," he said.
Moscow values the efforts by the UN Secretary-General Antonio Guterres, who vouched to achieve the removal of sanctions on Russian food and fertilizer imposed over the conflict in Ukraine, the press secretary pointed out.
"Guterres, unfortunately, failed to break through the blank wall of the collective West" and fulfill his promise, Peskov said.
The breakthrough grain deal between Moscow and Kiev was reached in Istanbul in July last year with mediation by the UN and Türkiye. It was aimed at unlocking exports of Ukrainian and Russian grain – the two countries are among the world's leading grain exporters – which had come to halt due to the conflict between the two neighbors.
Moscow, which provided the conditions for ships with Ukrainian grain to depart from ports in the Black Sea, has said that the deal largely failed to benefit the most vulnerable nations. According to the Russian side, most of the Ukrainian produce is being used to feed livestock in Europe, while low-income countries in Africa and Asia remain unable to import Russian grain and fertilizers because of sanctions.
You can share this story on social media: