Ukraine grain deal renewed – Moscow
The UN-backed scheme for Ukraine has been extended, despite Moscow's complaints about restrictions on its own trade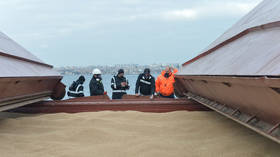 The UN and Türkiye-mediated arrangement for exporting Ukrainian grain via the Black Sea has been renewed for three more months, Russian Deputy Foreign Minister Aleksandr Grushko told journalists on Tuesday. However, Moscow remains unhappy with the failure to secure the lifting of Western restrictions on its own food and fertilizer trade, the official added.
The Black Sea grain mechanism was introduced in August last year to facilitate Ukraine's agricultural exports amid the conflict with Russia. It was initially set to run for 180 days and has since been renewed once.
According to Grushko, Russia has agreed to renew it again, but just for 60 days, as was suggested on Monday by fellow Deputy Foreign Minister Sergey Vershinin.
The deal includes a commitment by the UN to put pressure on Western nations to lift some of the economic sanctions against Russia. Moscow has said the restrictions have effectively barred Russian grain producers from using sea merchants to sell goods on the global market.
Russia also argued that as the facilitation of Ukrainian trade was touted as a way to address spiking global food prices, it would be reasonable to expect those restrictions to be eliminated.
"We will vigorously demand that all the promises and commitments given to Russia regarding the implementation of this second track, that is the lifting of all direct and indirect sanctions on Russian agricultural exports to the global markets, are fulfilled," Grushko said.
Russia has long criticized the way the grain deal has been implemented, arguing that it has largely failed to benefit the most vulnerable nations, with most Ukrainian produce being used to feed livestock in Europe. Meanwhile, low-income countries in Africa and Asia are barred from importing Russian grain and fertilizers due to Western sanctions, Moscow said.
You can share this story on social media: