British PM responds to private pool criticism
Rishi Sunak "absolutely understands" millions are struggling with money no matter how much it costs to heat his pool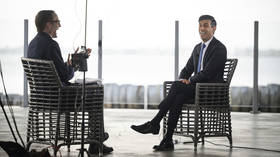 UK Prime Minister Rishi Sunak told state broadcaster the BBC on Sunday that his government's successful efforts to reduce people's energy bills were more important than his own expenditure to heat the pool at his $18 million North Yorkshire estate.
Sunak landed in hot water recently over revelations he will pay up to £14,000 ($17,000) per year to heat his recently upgraded private swimming pool while the country experiences a cost of living crisis.
"I absolutely understand that the number one challenge people are facing is with the cost of living and particularly energy bills," Sunak told Chris Mason in response to a question about whether the amount of money he spent on his private pool made him seem out of touch. "The important thing is what the government does to help people with energy bills."
Pointing to the "windfall tax on energy companies" he secured as chancellor, Sunak boasted, "We have used that money to help reduce people's energy bills."
When Mason pressed him on whether his own massive wealth – he and his wife are worth about £730 million ($889 million) – got in the way of understanding the lives of his constituents, Sunak disagreed, again pointing to the taxes his government had levied on energy companies.
"We've used that money to reduce people's energy bills by £1,000. That's the actions of this government, the actions of me as prime minister and chancellor. I think people can see from that, that I do take this really seriously," Sunak said.
The PM recently had the electrical grid around his property upgraded in order to service the new heated swimming pool he was putting in, according to The Guardian, which described the installation of "a substantial amount of equipment" as well as an entire new connection to the National Grid running across open fields.
While the report stressed that the PM was paying for the work himself, the optics of the well-heeled PM luxuriating in his 12m (40 ft) heated private pool while hundreds of council-run swimming pools have been forced to either close or reduce hours, due to energy costs, have led to questions like Mason's.
Adopted in October, the Energy Price Guarantee holds gas and electricity costs under £2,500 per year ($3,044) for the typical household. A similar Energy Bill Relief Scheme for non-domestic energy users will no longer offer government assistance to public swimming pools starting in April.
You can share this story on social media: