Ukraine is third-largest global arms importer – study
Weapon transfers to Europe rose sharply in 2022, while arms trade across the world declined, a Stockholm-based think tank has found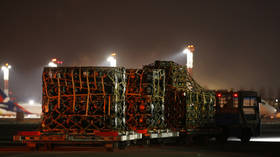 The US and EU's extensive military aid to Kiev amid its ongoing conflict with Moscow made Ukraine the third largest importer of major arms in 2022, after Qatar and India, the Stockholm International Peace Research Institute (SIPRI) reported on Monday.
Ukraine also ranked as the 14th largest weapons importer in the world for the five-year period between 2018 and 2022, accounting for some 2% of global arms imports, the think tank found.
While the global level of international arms transfers has fallen by 5.1% in the past five years, SIPRI also reported that imports of arms by European states saw a sharp increase of 47%, while European NATO states increased their weapon imports by 65% amid a perceived threat from Russia.
"Even as arms transfers have declined globally, those to Europe have risen sharply due to tensions between Russia and most other European states," noted Pieter D. Wezeman, a senior SIPRI researcher, adding that European states now want to "import more arms, faster."
He also observed that, while the US and other NATO states have declined Kiev's requests for combat aircraft and long-range missiles out of fears of an escalation in the Russian-Ukrainian conflict, they have nevertheless supplied such arms to other states involved in the conflict, "particularly in the Middle East and South Asia."
Russia and the US have remained the biggest weapons exporters in the world, although Moscow's share of arms sales reportedly fell from 22% to 16% while Washington's share saw an increase from 33% to 40%. Also, between 2018 and 2022, US arms sales grew by 14%, while Russia's sales fell by 31%.
Meanwhile, Asia and Oceania accounted for 41% of arms deliveries in 2018-2022, with countries like India, Australia, China, South Korea, Pakistan and Japan landing in the top ten of global arms importers. Wesman explained that the increased demand is being driven by a perceived growing threat from China and North Korea.
As for the Middle East, Saudi Arabia, Qatar and Egypt found themselves in the top ten of weapons importers for the past five years, with the great majority of weapons being provided by the USA (54%), followed by France, Russia and Italy. The sales included over 260 advanced combat aircraft, over 500 new tanks and 13 frigates, SIPRI reported.
You can share this story on social media: