China warns neighbor against 'bringing wolves into the house'
Strengthening military ties with the US will bind the Philippines to a "chariot of geopolitical strife," Beijing has claimed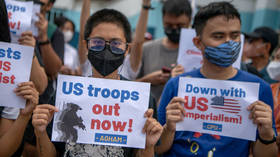 The Chinese Foreign Ministry on Sunday cautioned the Philippines against strengthening military cooperation with the US, saying it will be used to serve Washington's geopolitical agenda to the detriment of Manila's own security.
The latest warning from the Chinese embassy in Manila cited Philippines' President Ferdinand Marcos Jr.'s decision last month to give US troops access to four additional military bases in the Southeast Asian country.
Such cooperation will "pull the Philippines against China and tie the country to the chariot of geopolitical strife, seriously jeopardizing Philippine national interests and regional peace and stability," the embassy warned.
Since Marcos took office last summer, relations with Beijing have been increasingly strained amid a territorial dispute in the South China Sea, where China claims sovereignty. US Vice President Kamala Harris visited the island nation last November, saying the world was "grappling with assaults on the rules-based international order."
The Chinese embassy urged the Marcos administration to avoid getting sucked into US efforts to maintain global hegemony.
We should abandon the perverse path of sowing dissension and causing trouble, not to mention the evil path of drawing wolves into the house and opening the door for thieves."
China has repeatedly accused the US and its NATO allies of behaving as if the Cold War were still going on. Washington has been "stirring up trouble" in the South China Sea, undermining efforts by China and its neighbors to maintain peace and stability in the disputed waters, the embassy said.
"Now that China and the Philippines, among other countries in the region, are at a critical juncture of post-Covid recovery, we should keep to the right track of maintaining good-neighborliness and attaining mutual benefit," the statement said.
Some of the Philippine bases where US soldiers will be stationed are located near the disputed waters. The defense cooperation agreement also enables US forces to store equipment at those bases, which could come in handy if war breaks out in the Taiwan Strait.
You can share this story on social media: