New Chinese defense minister under Russia-linked US sanctions
General Li Shangfu will oversee Beijing's military development amid tensions with Washington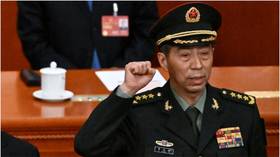 China's National People's Congress (NPC) appointed General Li Shangfu, who has been sanctioned by the US for dealings with Russia, as the country's new defense minister on Sunday.
In 2018, the US blacklisted Li as the then-head of the Equipment Development Department for "significant transactions" involving the transfer of Su-35 fighter jets and S-400 air defense systems-related materiel from Russia to China.
Li was born in 1958 in Chengdu, the capital of the southwestern Sichuan province. After graduating from a military university, he spent more than three decades at the Xichang spaceport, working first as a technician, and eventually becoming the launch site's director.
In the 2000s, he oversaw the launch of Chang'e 2, the country's first lunar probe, and led China's first anti-satellite missile test.
In 2016, Li was appointed deputy commander of the recently established People's Liberation Army Strategic Support Command, a branch tasked with space and cyber warfare. Between 2017 and 2022, the general led China's manned space program. During his tenure, Beijing ramped up activity in space, completing 55 successful orbital launches in 2021, surpassing the US and Russia.
Li's new appointment comes at a time of growing confrontation with the US and rising tensions over Taiwan. The simmering point of conflict flared up in 2022, when then-US House Speaker Nancy Pelosi visited Taipei despite protests from Beijing. A new incident occurred last month, when Washington accused China of flying a surveillance balloon over US territory. Beijing rejected the allegations of espionage, insisting that the balloon was for weather research and had veered off course.
The NPC convened for its annual session earlier this month. On Friday, the legislature elected Xi Jinping as president for a third five-year term, and later voted for Li Qiang as the new premier, making him the country's second-highest official.
You can share this story on social media: