Over $250 billion swindled from US pandemic fund – report
Three government agencies told Congress that the stated sum is actually conservative and the true figure could be much greater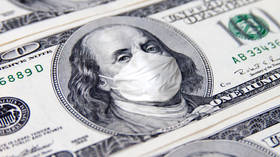 More than $250 billion in Covid-19 relief funds were lost to "fraud" and "waste," the directors of three US government agencies testified before the House Oversight and Accountability subcommittee on Thursday.
Compounding what Deputy Inspector General Sheldon Shoemaker of the Small Business Administration (SBA) called "the biggest fraud in a generation," the officials stressed that the figures they gave represented an extremely conservative estimate of the total amount lost as they did not include the amount defrauded from the Pandemic Unemployment Assistance program.
According to a statement submitted by Shoemaker ahead of the hearing, the SBA has already uncovered $190.7 billion in potential fraud across relief programs under its jurisdiction. Specifically, it expects to find upwards of $100 billion within the scandal-plagued Paycheck Protection Program. Acting Treasury Inspector General Richard Delmar admitted to just $2.6 billion in dubious charges confirmed at his agency, pleading that ongoing audits precluded making an estimate of the full cost.
Larry Turner, inspector general of the Department of Labor, blamed the massive losses on a lack of preparation, insufficient oversight, and even the government's generosity, making a "highly conservative" estimate of $76 billion in fraudulent spending. With no functioning system in place to verify applicants' qualifying details in a reasonable time frame, the "unprecedented infusion of federal funds" into the program made it irresistible to fraudsters, he told the subcommittee.
Rep. Keith Mfume (D-Maryland) expressed shock that no one had predicted that requiring only "self-certification" to access such a prodigious cash hoard would lead to "a lot of hanky-panky," while Rep. Byron Donalds (R-Florida) pointed out that the agencies did not even use existing checks and balances to vet applicants, and Rep. Maxwell Frost (D-Florida) highlighted that state unemployment systems were hopelessly outdated even before the pandemic placed them under unprecedented stress. Of $45.6 billion in potential fraud lent out in association with one Labor Department program, Turner acknowledged upon questioning that $267 million had gone to dead people.
Asked about the possibility of recovering the money, Turner said that hunting down the perpetrators was financially unrewarding, as "once money goes out the door, it is hard to get it back." Even in cases where the government has been able to track down Covid-19 benefit fraudsters and claw back some of the funds, the inspectors general were unable to tell subcommittee members what had become of some of the money.
More than $5 trillion in pandemic relief funds have been distributed since 2020. By some estimates, as much as $400 billion was stolen from the unemployment relief program alone.
You can share this story on social media: