Watchdog finds $5.4 billion in potential Covid loan fraud
Nearly 70,000 nonexistent or questionable Social Security Numbers were used to secure the coveted handouts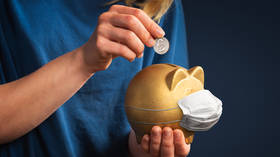 Fraudsters using fake social security numbers may have walked off with $5.4 billion in pandemic loans from two of the US' Covid-19 relief programs, according to a report published on Monday by watchdog group the Pandemic Response Action Committee. The report came ahead of a House of Representatives hearing on wasteful pandemic spending.
The report found the Covid-19 Emergency Injury Disaster Loans and Paycheck Protection Program had paid out loans to 69,323 "questionable" Social Security Numbers, where SSNs were either not issued by the federal government at all or did not match up to the actual holder's name or birthdate.
The figure represents nearly a third of the 221,427 SSNs the group flagged as potentially fraudulent after submitting loan applicants' data to the Social Security Administration to confirm whether the personal information on the 33 million applications matched the listed SSNs.
The PRAC acknowledged both pandemic relief funds were unusually "susceptible" to fraud due to the "elevated urgency" of the situation and noted the process to implement SSN verification agreements among agencies can be "lengthy."
"Having such information-sharing agreements in place before an emergency would ensure timely access to verification information and improve federal program integrity, protect taxpayer funds from improper payments and fraud, better ensure benefits are paid only to those who are truly eligible, and reduce the incidence of identity fraud in government programs, thereby helping protect victims of identity theft," the watchdog concluded.
The US' pandemic loan programs doled out almost $1.2 trillion to small businesses and individuals affected by the pandemic, as well as opportunists who took advantage of the lax oversight to plunder the funds meant for struggling Americans.
The latter included a Miami resident charged last month with defrauding the Paycheck Protection Program of $2.1 million, which he spent on a Lamborghini, Rolexes and designer clothing. A fellow Lamborghini fan from Houston was sentenced to nearly 10 years in prison for spending his own stolen $1.6 million on an SUV made by the iconic sportscar brand, Rolexes and strippers, and a Las Vegas resident pleaded guilty to stealing $2 million for a Bentley, a Tesla, and luxury condos.
You can share this story on social media: