EU aiming to ramp up naval patrols after Nord Stream blasts – FT
A new maritime strategy will reportedly urge increased NATO activity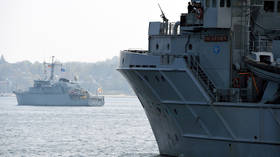 EU officials believe that the sabotage of the Nord Stream pipelines warrants increased naval patrols to defend assets against Russia, according to the Financial Times. European investigators have reportedly found no evidence linking Moscow to the incident, which rendered multibillion-dollar projects inoperable.
"After what happened with Nord Stream, [we need] increased monitoring and protecting [of] critical maritime infrastructure and ships from physical and cyber threats," Virginijus Sinkevicius, the EU's environment and oceans commissioner, told the British newspaper.
A plan to ramp up joint NATO patrols and naval military exercises will be outlined in an update of the EU's maritime strategy, which will be published on Friday, the newspaper said. Lithuanian politician Sinkevicius claimed that the bloc "cannot exclude anything" under the current circumstances.
The Nord Stream pipelines connected Russia to Germany via the Baltic Sea. Last September, powerful explosions ruptured three of the four pipes, making it impossible to deliver natural gas through them.
Initially, there was widespread speculation in the Western media that Moscow had supposedly blown up its own infrastructure to put pressure on the EU amid the conflict in Ukraine. After months of investigations, no evidence has reportedly been found to back up that theory.
Moscow was denied access to the probes by EU nations and is seeking an impartial, UN-mandated investigation. If the sabotage goes unpunished, it would create a dangerous precedent in international relations, senior Russian diplomats have argued.
"It is the right of not only Russia, but of everybody to understand what has happened," the deputy head of the Russian mission to the UN, Dmitry Polyansky, insisted. "If we are approaching an age when [nations] can attack infrastructure projects of [other nations] – I don't know what the limits would be of this terrible time."
Last month, US investigative journalist Seymour Hersh reported that the Nord Stream sabotage was a clandestine US-Norwegian operation, ordered by American President Joe Biden. He said it was meant to ensure German support for the confrontation with Russia over Ukraine, as well as compliance with the EU's decision to stop buying Russian energy.
This week, a series of publications in US and German media outlets claimed that a "pro-Ukrainian group" funded by a Ukrainian businessman may have been behind the sabotage. Western nations previously insisted that only a state actor would have the capability and expertise to pull off such a complex operation.
Russian Foreign Minister Sergey Lavrov said it is "shameful" for journalists to attempt to pin the attack "on some Ukrainian oligarch." The Kremlin mocked the latest claims surrounding the sabotage, suggesting that they implied that fictional villain 'Dr. Evil' was somehow the mastermind.
You can share this story on social media: