US company asks Malaysia to reopen MH370 probe
Families of victims want the search renewed after a US-based marine robotics company announced new evidence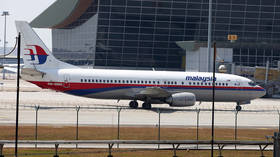 Malaysian authorities are being asked to launch a new search for flight MH370, nine years after it disappeared from radars over the South China Sea. The request comes after US marine robotics company Ocean Infinity claimed to have found new evidence of the plane's possible location.
The Boeing 777 was en route from Kuala Lumpur International Airport to Beijing with 239 passengers on board on March 8, 2014, when it vanished from the grid less than an hour into its journey.
For three years, Malaysia, China, and Australia searched for the plane in the Indian Ocean, where it was believed to have crashed, only to come up empty-handed. The search was officially called off in January 2017, with no conclusion made about what could have happened to the mystery flight.
However, speaking to the Guardian on the ninth anniversary of the incident, Ocean Infinity CEO Oliver Plunkett said that after his company conducted its own unsuccessful search in 2018, it has now obtained new evidence that could finally lead to the discovery of the plane.
Although he did not share specifics of the findings, Plunkett said he hopes to convince the Malaysian government in the coming weeks to green-light another search and launch it later this year or in 2024. The initiative is also being supported by Voice370 – a group of relatives of passengers who were on board MH370 when it disappeared.
Meanwhile, a new Netflix documentary titled 'MH370: The Plane That Disappeared' has reignited public interest in the mystery and shed light on new theories.
Cyndi Hendry, a volunteer researcher at now-defunct satellite imagery company Tomnod, told the Netflix filmmakers that she found what looked like plane debris in the South China Sea just days after the aircraft vanished, thousands of miles from the main search area.
Hendry, who scoured satellite images, claims to have found pieces of wreckage that were an "almost perfect match" to MH370 off the coast of Vietnam, close to where the plane dropped off radars.
The researcher says she tried contacting investigators and Malaysia Airlines to share her findings but claims she was ignored, after British company Inmarsat published data which suggested the plane crashed in the Indian Ocean.
You can share this story on social media: