Horror train crash kills dozens
The collision between freight and passenger trains in Greece caused a blaze with people trapped inside overturned cars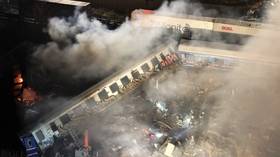 At least 36 people have been killed and dozens injured following a head-on collision between two trains in northeastern Greece. Some 350 passengers were on board one of the trains at the time of the crash. Rescuers on site have pulled many survivors from the wreckage.
The incident took place shortly after midnight on Wednesday near the town of Tempe, close to Greece's eastern coast and some 233km (144 miles) north of Athens.
According to the latest figures from the Greek Fire Department, the death toll now stands at 36, with 66 hospitalized, six of whom are said to be in intensive care units.
Earlier, state-run broadcaster ERT News said that at least 25 of those injured are in "serious condition," noting that several train cars derailed in the collision.
Greek officials say that firefighters are now focused on the first three carriages of the train.
"It was a very powerful collision. This is a terrible night… It's hard to describe the scene," Costas Agorastos, the regional governor of Greece's Thessaly region, told state media, adding that around 250 survivors had been evacuated to Thessaloniki on buses.
Passengers reached by local media described the moment of the crash, saying they felt a "strong jolt" before the train lost power, forcing panicked travelers to smash windows in order to flee overturned railcars.
Thirty ambulances reportedly rushed to the scene to treat the victims, with multiple hospitals in nearby Larissa now operating on an "emergency basis," local reports added. Fire crews battled a blaze that erupted in some cars, while the police and military have also mobilized rescue teams.
You can share this story on social media: